Your Life, Your Color, Your Choice

The colors most appreciated by designers. Shades that cannot be matched in the most popular color palettes. Unique, exceptional and sublime. Protected by a hologram "NOT TO COPY"
TOOLS FOR CREATING COLORFUL REALITY.
Color fan decks, color chips and designer's sets as well as wide selection of inspirational brochures presenting the best color combinations and schemes.
You can find all these tools in our distribution network and our showrooms.

Portable DESIGNER SET - available in two versions: Color Preview® and Color Classic. The colors are divided into individual families. Metal, unfastened rings that allow you to separate the selected color leaf are very convenient.

Stationary, big "color library" with format samples between A5/A4. This very useful tool is available in selected showrooms.

Color Preview® - a collection of 1240 bold, saturated colors that enliven the space by exuding pure, deep and unique shades.
The color fan deck complements the Classic Colors palette, creating surprising color combinations.
COLLECTIONS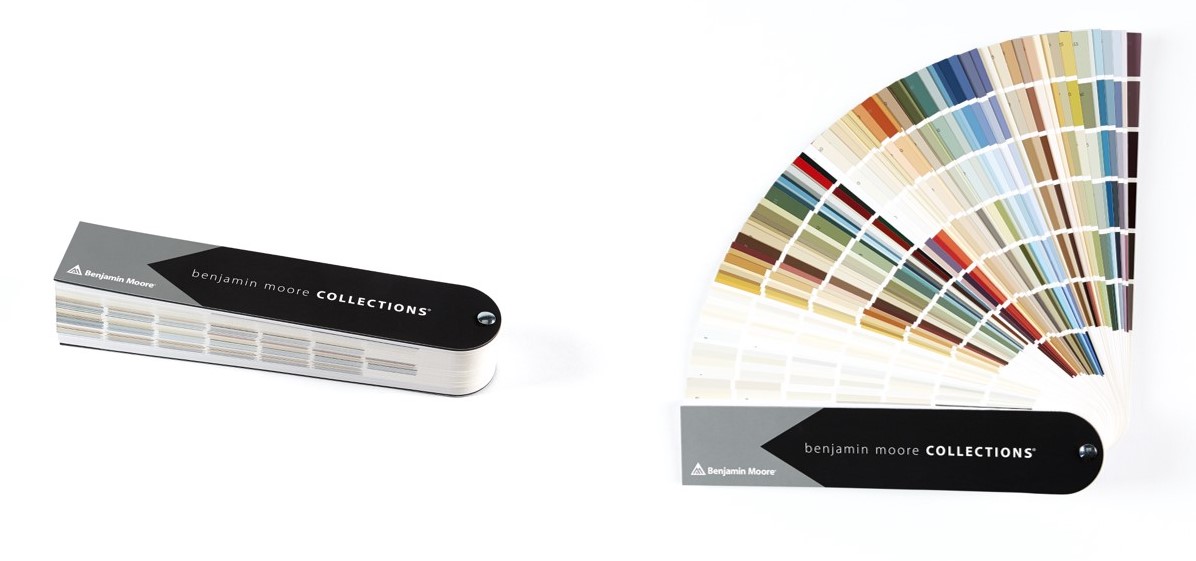 The collection is a combination of several of the most popular color palettes - 152 "Off Whites" (OC) shades, 191 "Historical" (HC) shades, 144 "Affinity" (AF) shades and 231 "Designer Classic" (CC) colors.
CLASSIC COLORS

Classic Colors - classic, timeless and elegant color collection, including 1,680 shades.
The palette includes inspired colors that consumers and professionals have enjoyed for years. Subtle gradations of color allow you to intermix sophisticated tones and rich hues, guaranteeing beautiful color combinations.
OFF-WHITE COLORS®

Off-White Colors® - this unique collection offers the beaty of many variations of white. A collection of 152 soft hues features a wide range of white and off-white colors.
The whites tinted in hues that complement the many beautiful color options found in other color palettes within the Benjamin Moore Color System. Inherently sophisticated and endlessly versatile, the Off-White Colors collection offers subtle nuances of whites that suit tranquil, serene environments as well as create color enhancing accents for dynamic spaces.
Historical Colors – steeped in tradition, the refined, elegant hues of the Historical Collection deliver timeless colors that can be used in traditional as well as contemporary spaces. A collection of 191 time-honored colors comprises our most popular palette, The Historical Colors. Inspired by the documented colors found in 18th and 19th century architecture, these classic inviting tones still serve us well today.
America's Colors – a concise collection of soft neutrals features a snapshot in color of America's most popular, well-traveled regions.
Geographically inspired with tones that are subtle and welcoming, America's Colors palette of 42 soft colors delivers a collection ranging from the pale gray tones on the coastlines to the rich clay earth tones of the Southwest.

COLOR STORIES™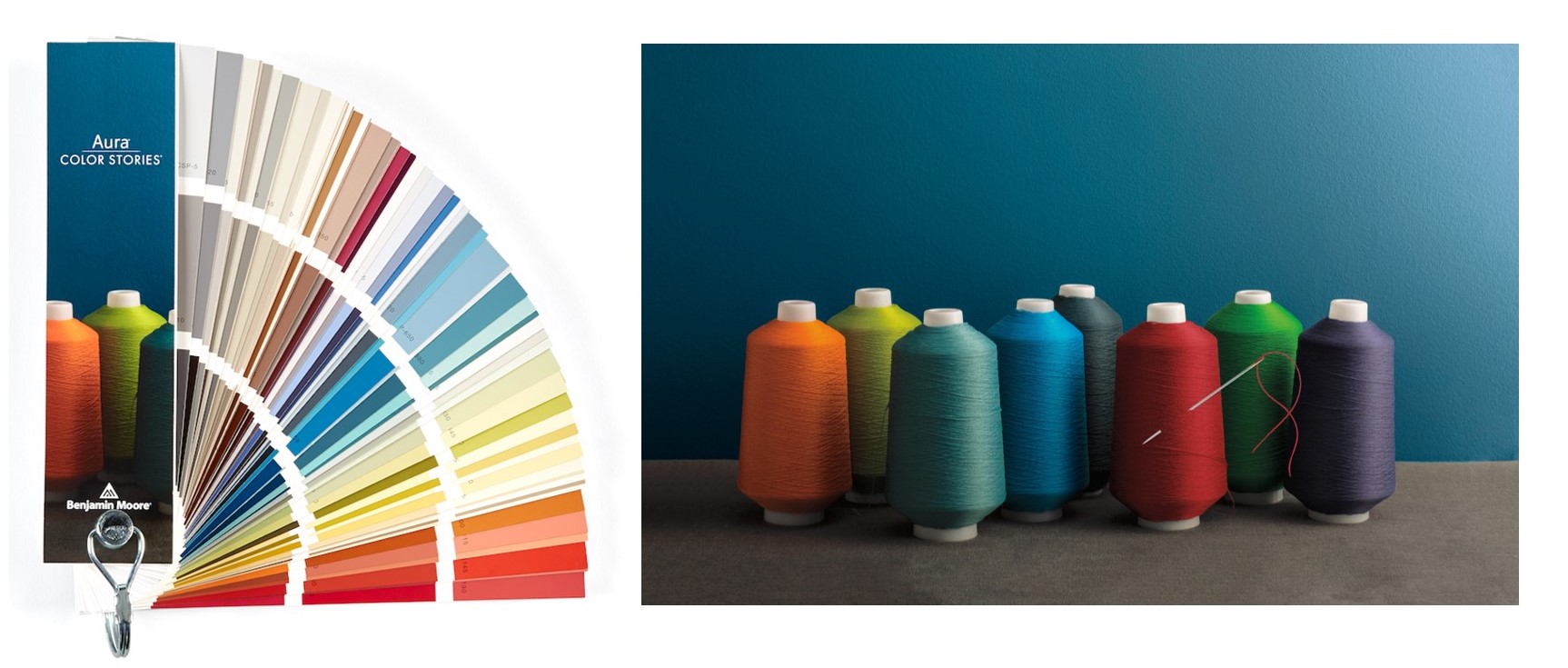 Discover the secrets of Color Stories™ - we created the most extraordinary and astonishing collection of color stories. We discovered the new dimension in whole world of colors. It's a real breakout in the paint color technology and science.
Two hundred forty, one-of-a-kind full-spectrum colors have been meticulously handcrafted into an astonishing collection - a palette so vibrant and exquisite that every color is best appreciated once the paint is applied. Color Stories™ is available only in exclusive product line Aura® .
Each color creates depth, overtones, nuance and luminosity not found in ordinary paints. From natural morning light to artificial or illumination, these colors take on different characteristics and appearances throughout the day.
Color Stories™ collection is presented in exceptional form - 8 coloristic volumes.
The unique recipe of each color evokes emotions and evokes feelings, it personifies a certain story. All of this is hidden behind each of the 240 "living" shades.
Click and read more!
AFFINITY™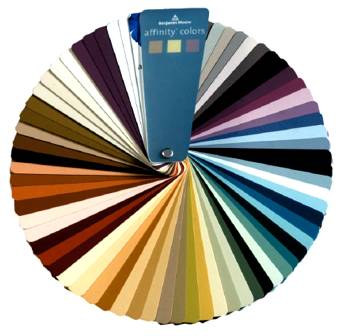 Affinity™ - comprised of 144 versatile hues, each designed to work on their own, or harmoniously in combination with one another. Inspired by global fashion trends, far-flung locales and the beauty of nature, and endorsed by designers from coast to coast.
The Affinity Color Collection adds sophistication, elegance, depth and richness to interior settings. Palette were inspirated by three broad themes: Eclectic Chic, Pure Harmony and Global Artisan.
The Affinity collection is dedicated to the AURA innovative paints.
DESIGNER PICKS - BRIAN GLUCKSTEIN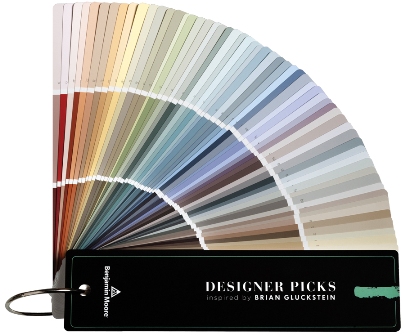 Designer Picks - new color palette including 198 shades, inspired by Brian Gluckstein, puts the creativity of the celebrated designer in your hands. According to Gluckstein, "There's a richness to Benjamin Moore's paint colors, a depth and complexity that can't be duplicated."

This sophisticated palette brings a touch of understated elegance to any décor and makes it easy for you to design your own color schemes with professional finesse.
This paint color collection is one of Benjamin Moore's new "Designer Picks" series of fan decks, which provide an extensive range of exciting color combination ideas for every room in your home from a variety of renowned interior designers.
CANDICE OLSON - DESIGNER PICKS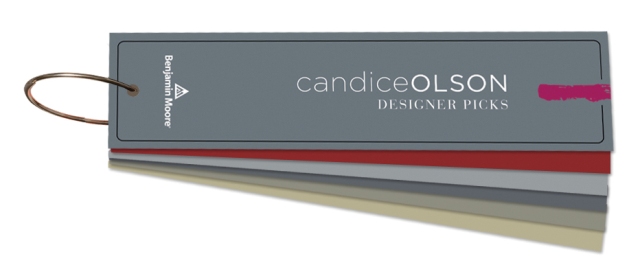 A unique collection of shades, signed with the name of the famous American designer. Candice Olson is a TV star and one of North America's most respected interior designers. Her latest project is an original interior color palette, which she created in cooperation with the Benjamin Moore brand.

Collection include her 60 favorite Benjamin Moore paint colors, resulting in a sophisticated, nature-inspired collection of timeless, unique color combinations for any room in your home.
FAVORITES, TRADITIONS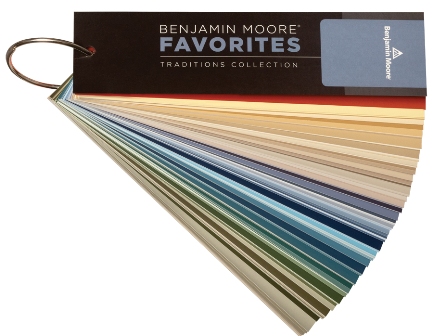 Steeped in architectural and design history, the rich, refined 169 colors in this gorgeous palette are also perfectly at home in contemporary spaces.
When you choose a color from the, Traditions Collection fan deck, you can scan the QR code printed on the back of each color strip to link to our Color Gallery, where you'll find complementary colors to complete your color scheme.
PERFECT PAIRINGS, TIMELESS COLORS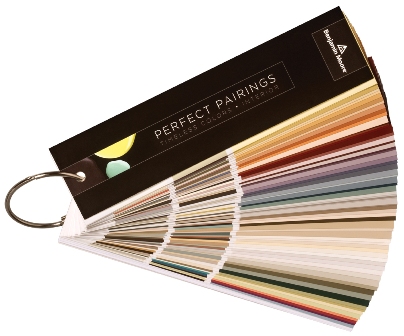 Perfect Pairings, Timeless Colors - unique, two-sided fan deck takes the guesswork out of choosing perfect color combinations for your entire home - interiors and exteriors.
Created by Benjamin Moore's color and design experts, our Perfect Pairings, Timeless Colors paint color fan deck is an innovative, easy–to–use tool for selecting the perfect color combinations for both interiors and exteriors.
Color collection includes 198 shades, with 3 timeless colors on each strip: a base or wall color and two complementary colors for trims and accents.