Who was Betty Moore?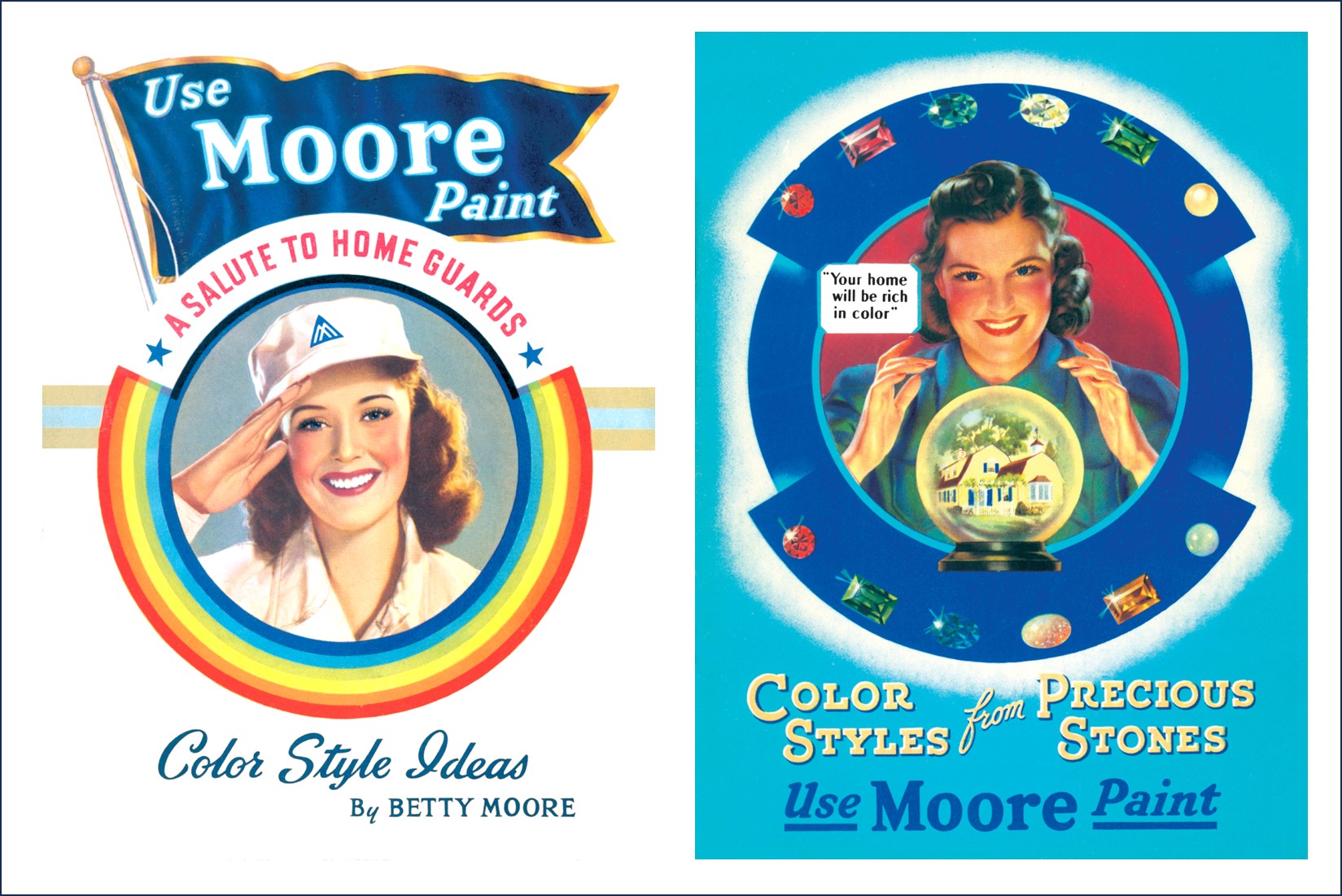 Betty Moore is a character created in the interwar period by Benjamin Moore & Co. in USA.

The idea behind the originators was simple, pioneering and visionary at the same time - to bring to life a person supporting clients in the selection of colors, interior design and painting works. Radio was used as the main communication channel.
In the years 1930-1960, Betty Moore ran her own program, in which she solved numerous problems by answering questions from listeners. We can say with no doubt, that Betty was a visionary, which preceded time she lived in.
Above (left part of image) her idealized portrait was presented from a brochure published by Benjamin Moore & Co. in 1942.
Naturally, the figure has had many images during its 30 years of activity.

The PERFECT MEDIUM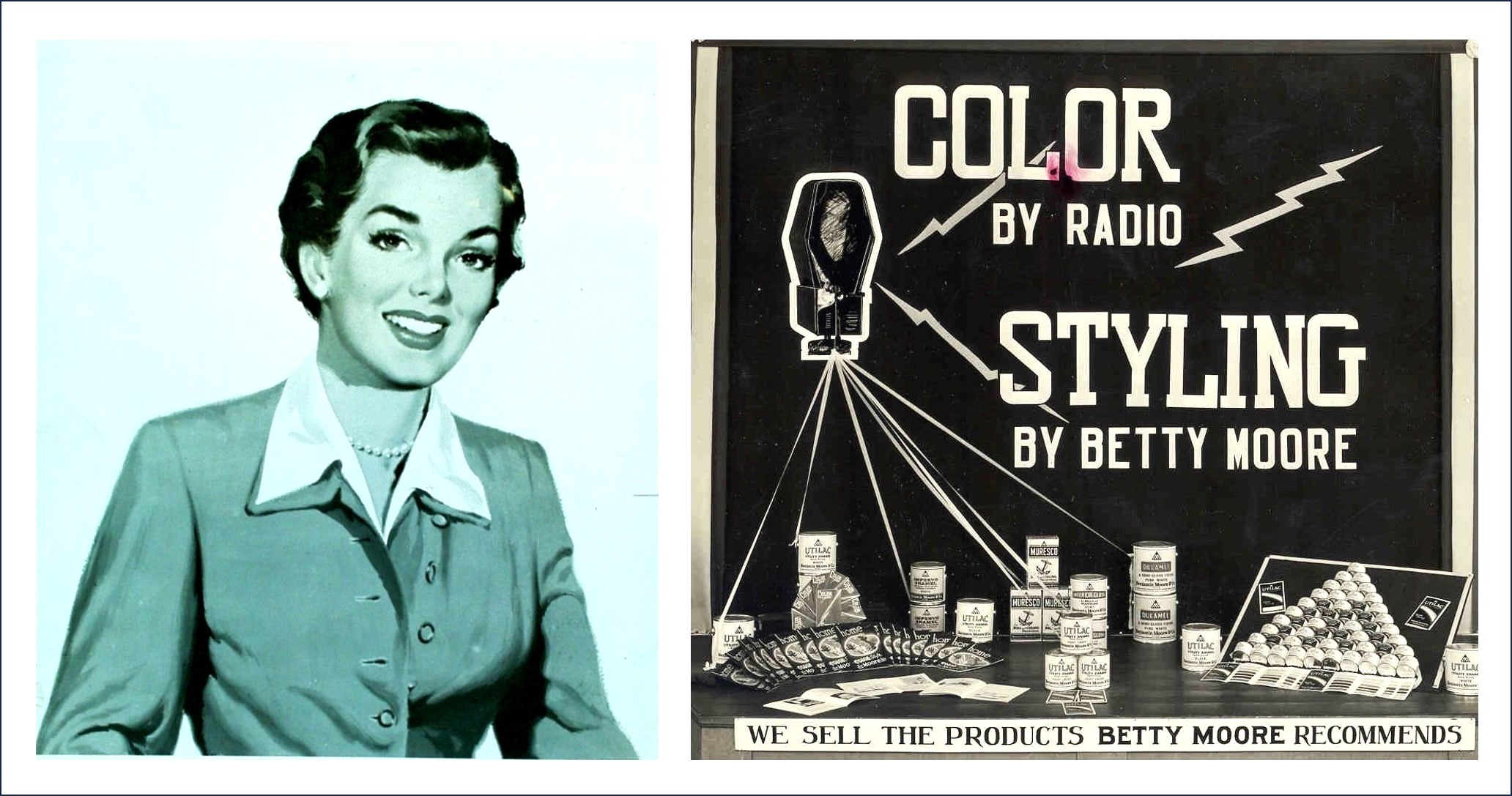 Betty has become the "ideal medium" for providing valuable advices, edited by a group of highly educated decorators, mostly women working in the "Benjamin Moore's Home Decorating Department".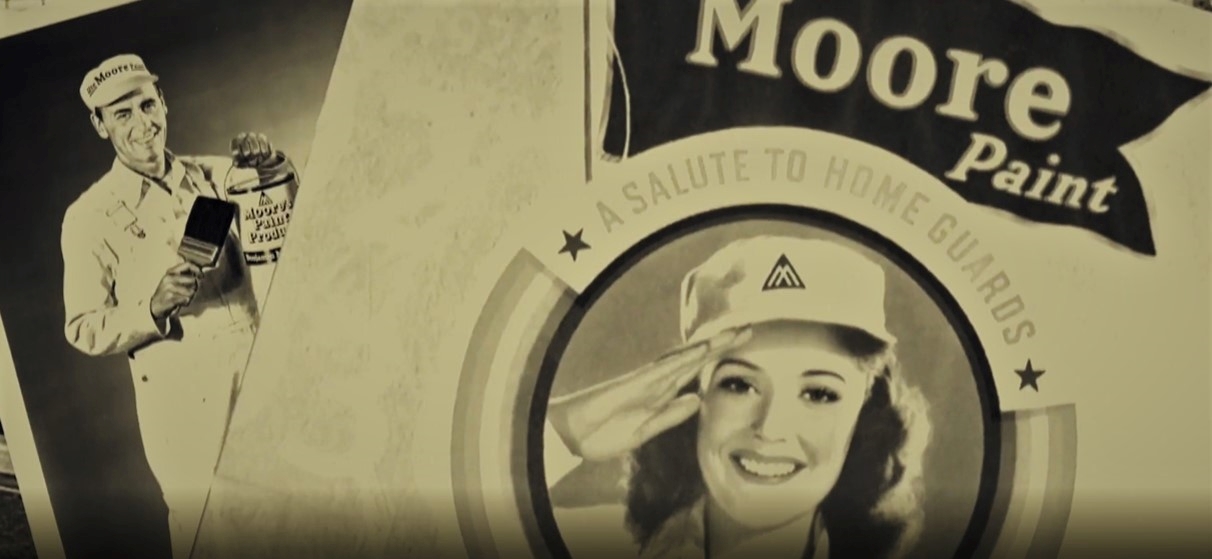 It was here that Betty Moore guides were created, which were sent by traditional mail to all interested parties or distributed through Benjamin Moore paint stores. The department also replied to customers' questions by mail.
Betty Moore "on air"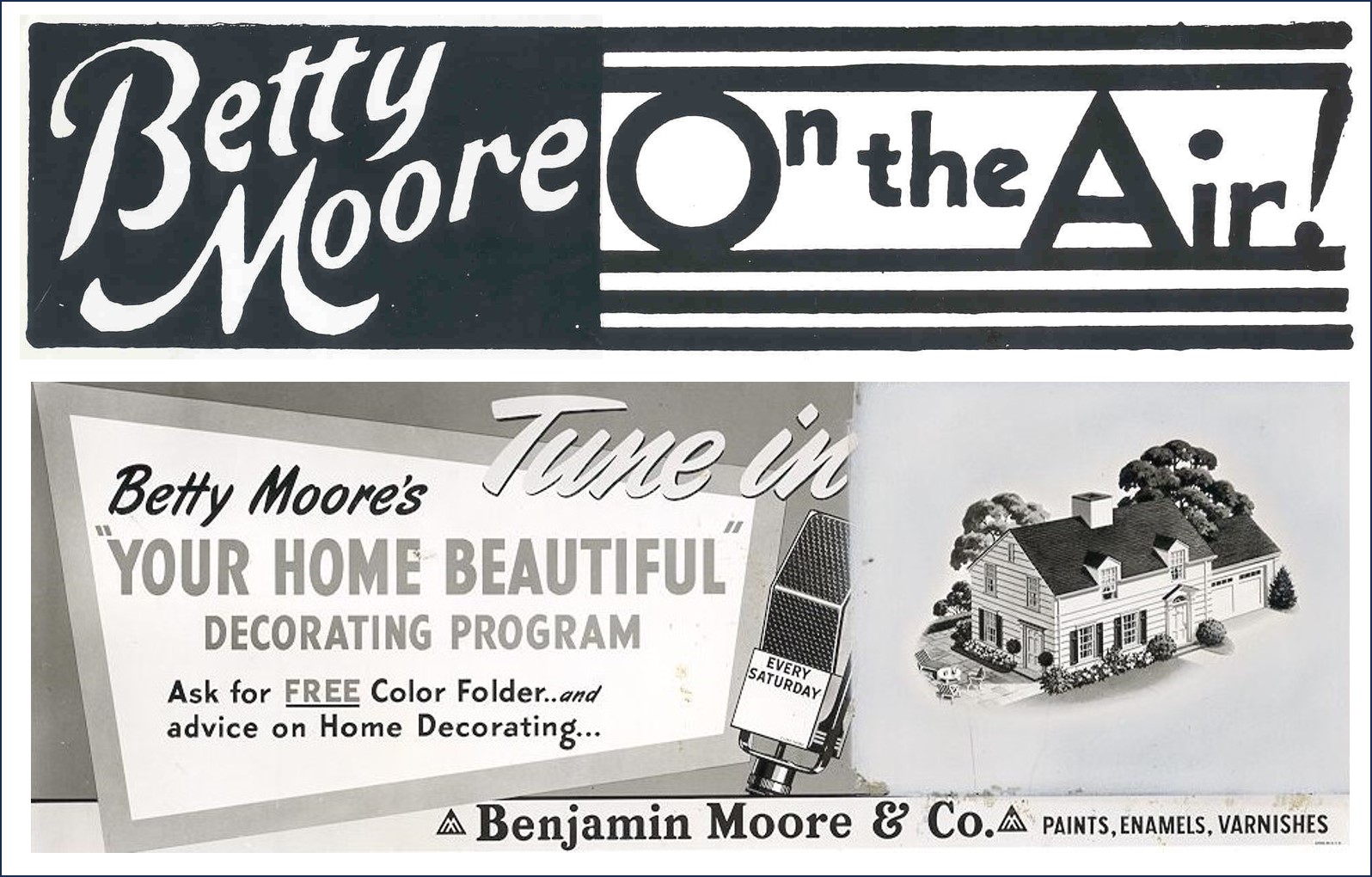 Since radio gained immense popularity in the 1920s and began to gain international coverage, sponsored programs were created.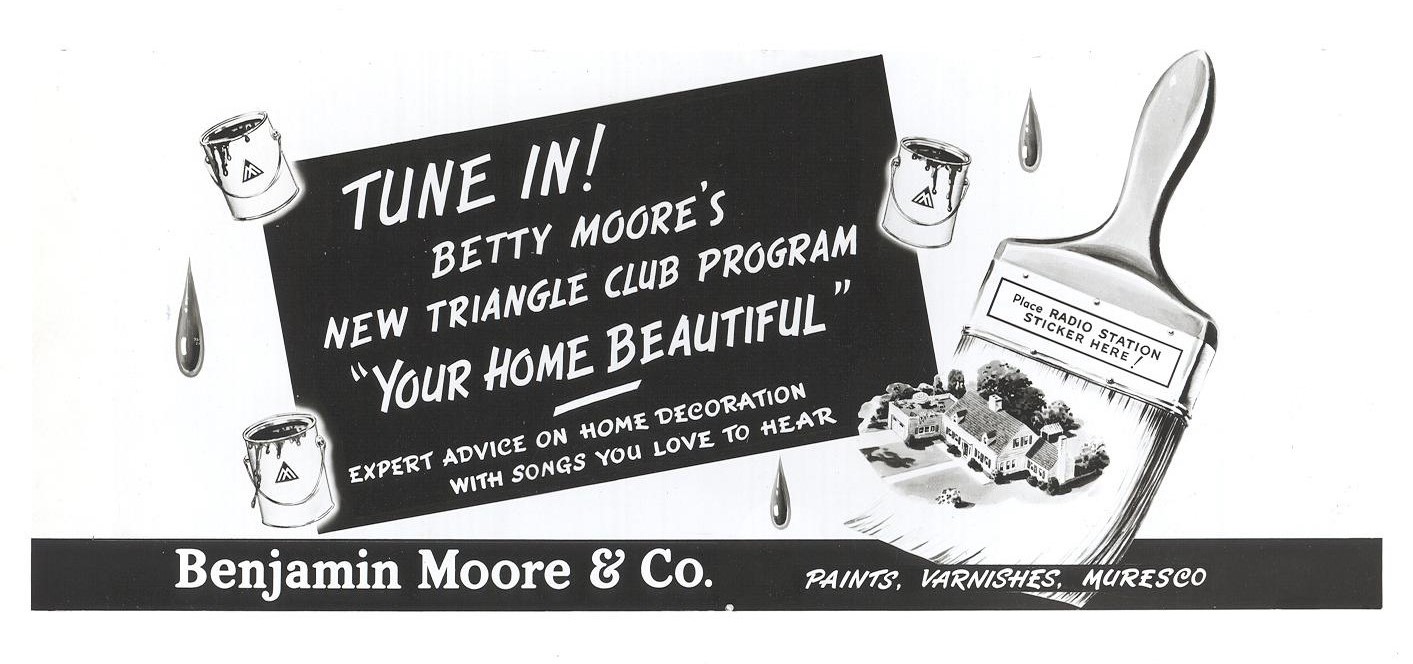 Benjamin Moore started broadcasting nationally in 1929 around the same time as the company established its department of home decorating.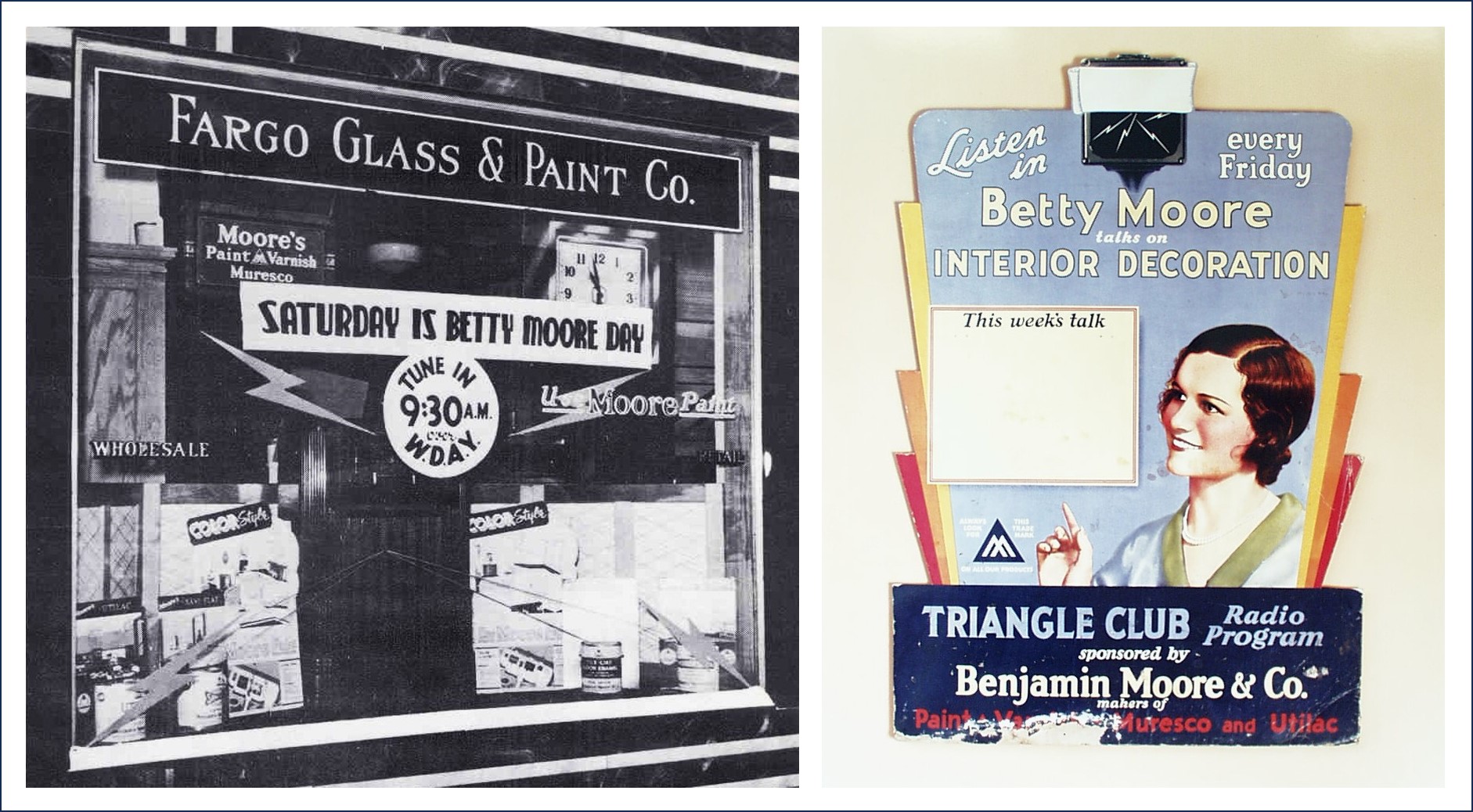 As mentioned before, by 1930, the fictional Betty Moore was presenting the company's color and decorating advice coast to coast from midwinter through early summer at 10:30 a.m. on Wednesdays and at 11.45 a.m. on Mondays. Later, Betty had Saturdays at her disposal.
Betty Moore Triangle Club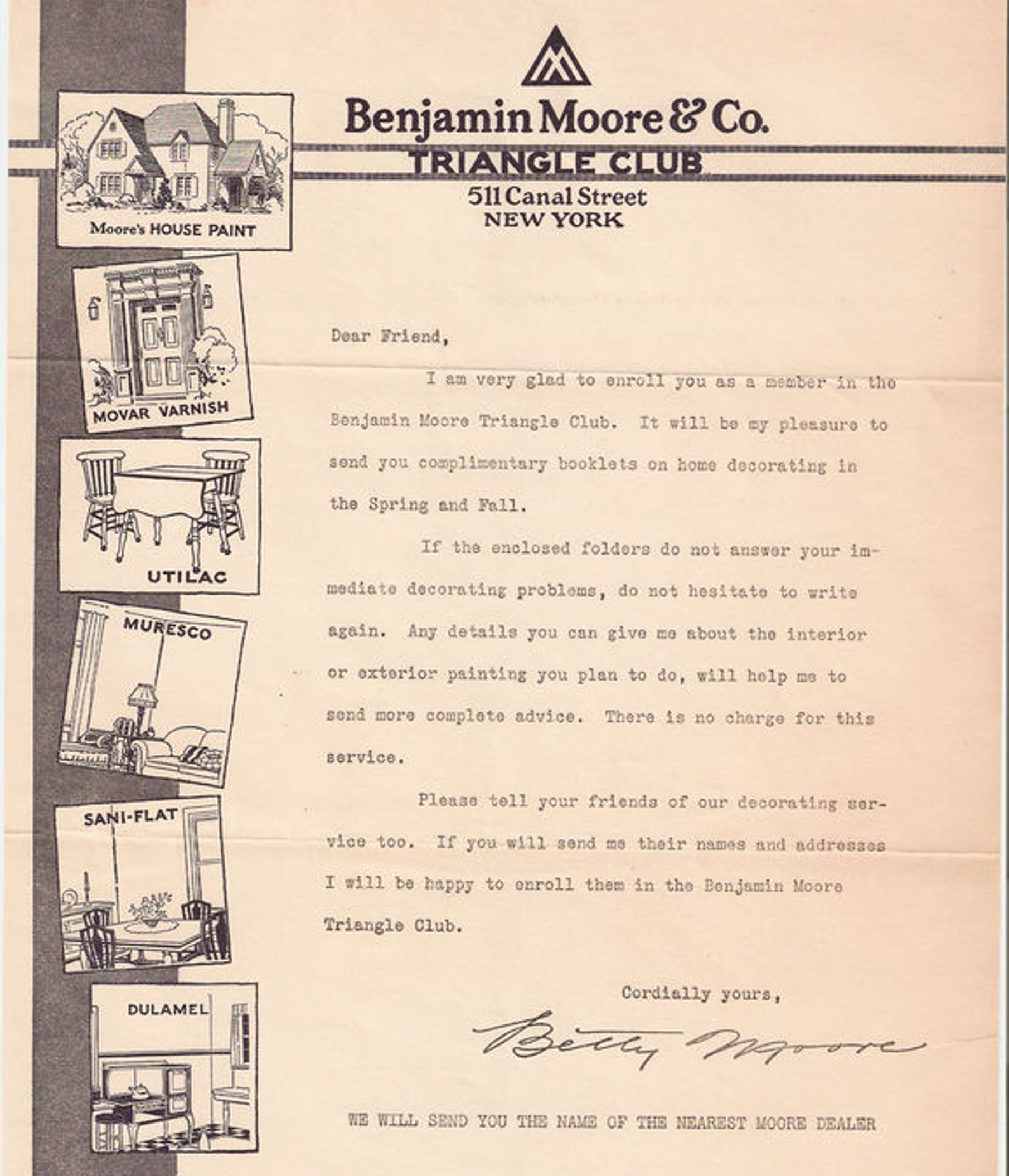 As the second broadcasting season came to an end on July 22, 1932, an estimated 100,000 listeners were members of the Betty Moore Triangle Club, free to all (although occasionally a small fee of ten cents might be collected for a series of mailed decorating booklets).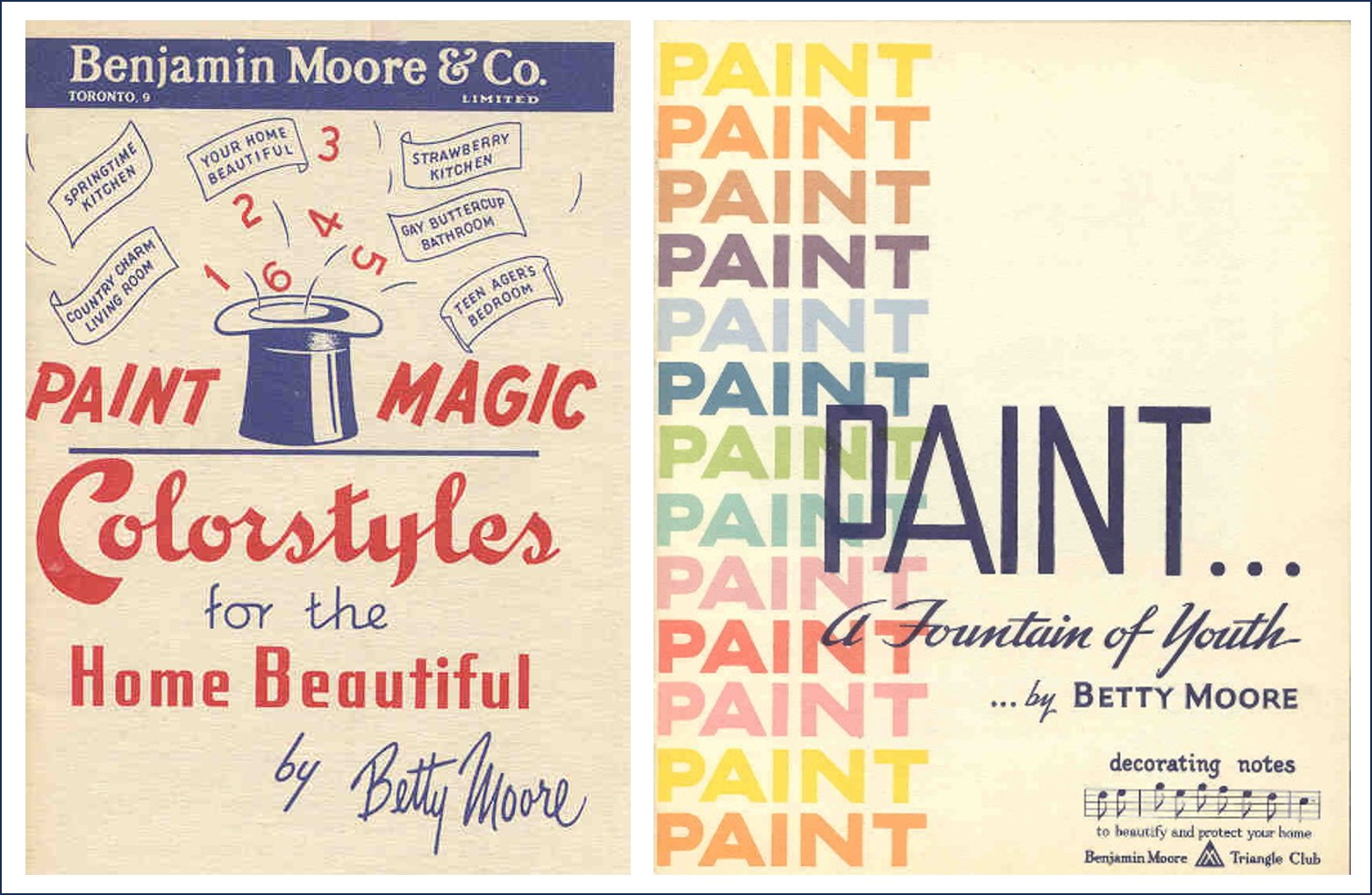 The radio programs featured Betty Moore talking about room color schemes and giving simple decorating tips and advice on how to do a good job when painting. All was not paint alone on the 15-minute programs. A crooner provided light entertainment and exchanged banter with Betty Moore.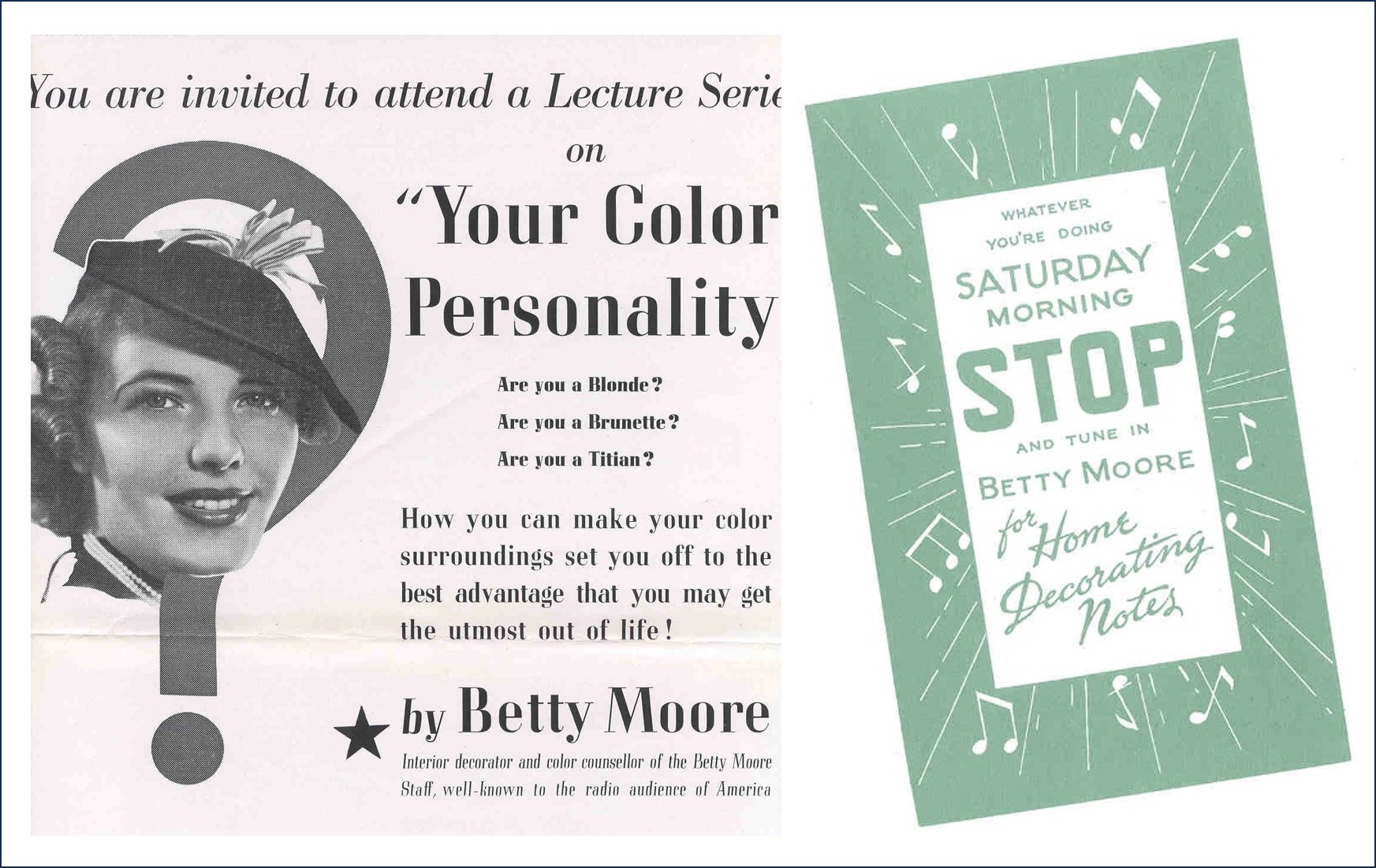 With time, Betty gained the recognition of customers, and the program she hosted became very popular.
In the next years, the decorating department of Benjamin Moore & Co. he hired another "Betty Moores", which helped to solve the design and color dilemmas of customers.

Betty Moore in paint stores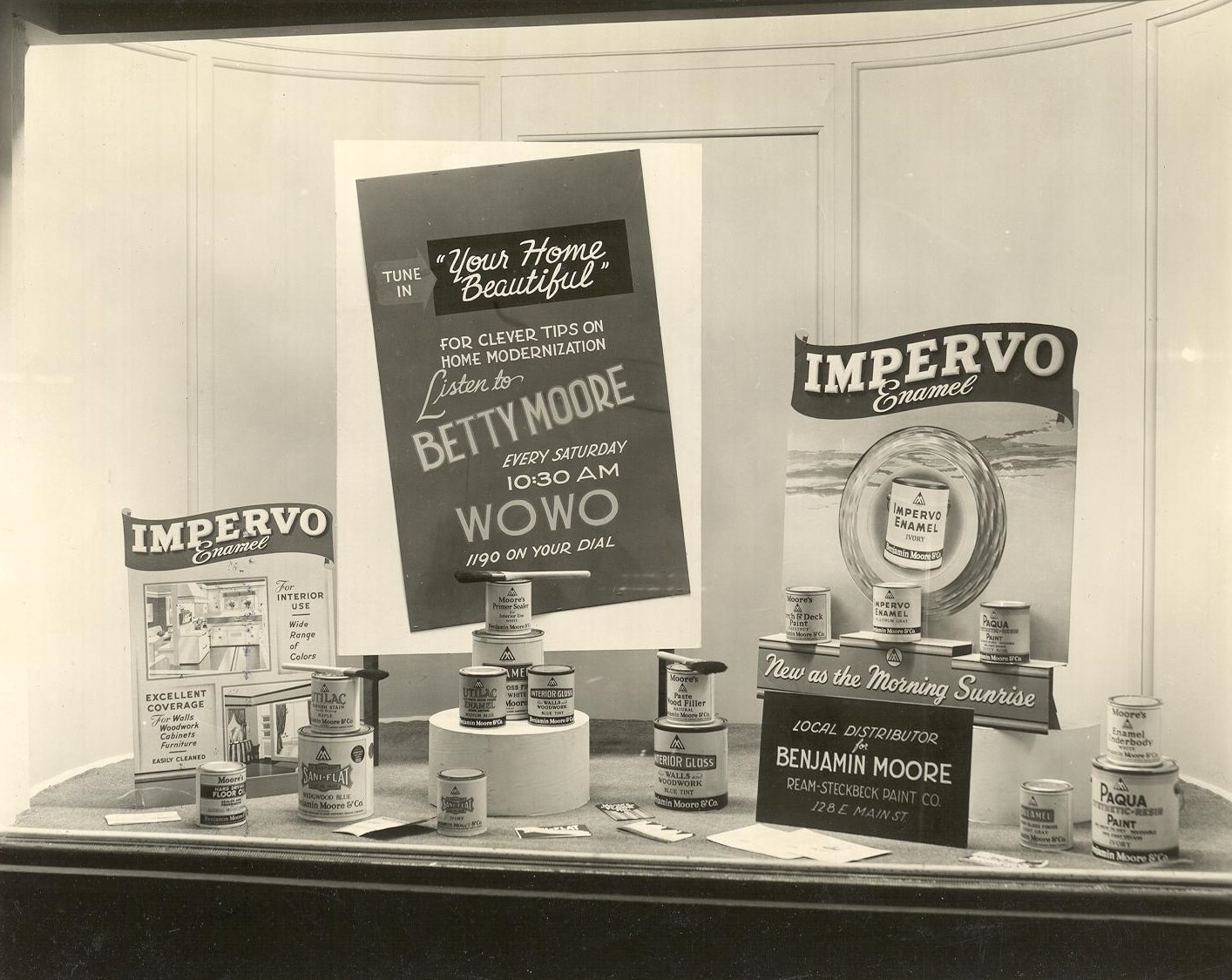 Let us note the synergy of activities carried out by the then Benjamin Moore & Co. None of the currently operating companies would be ashamed of them.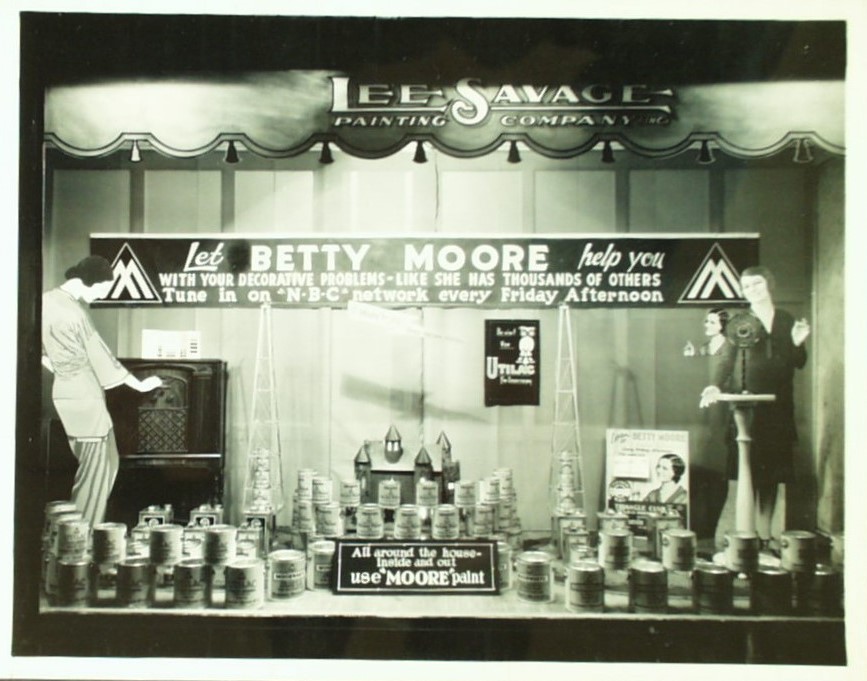 The figure of Betty Moore looked at passers-by from stylish windows. Plafonds and posters similar to those on the "Hankammer Hardware & Radio" pictured here advertised Betty Moore's design services.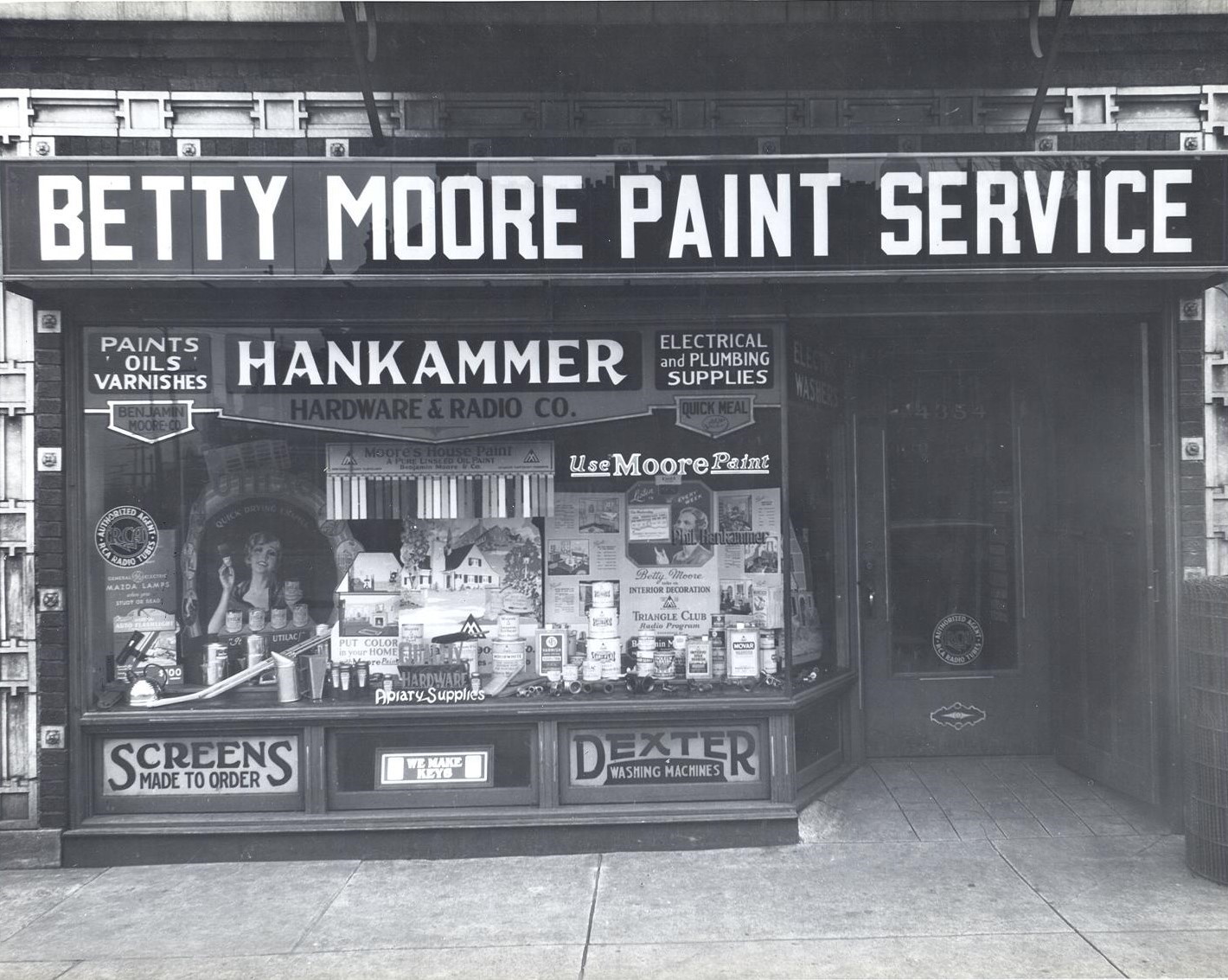 Benjamin Moore encouraged paint retailers to use Betty Moore persona to personalize the process of decorating with paint. Many retailers took advantage of the opportunity, as this store front shows.
Betty Moore also made in-store appearances to which consumers were invited.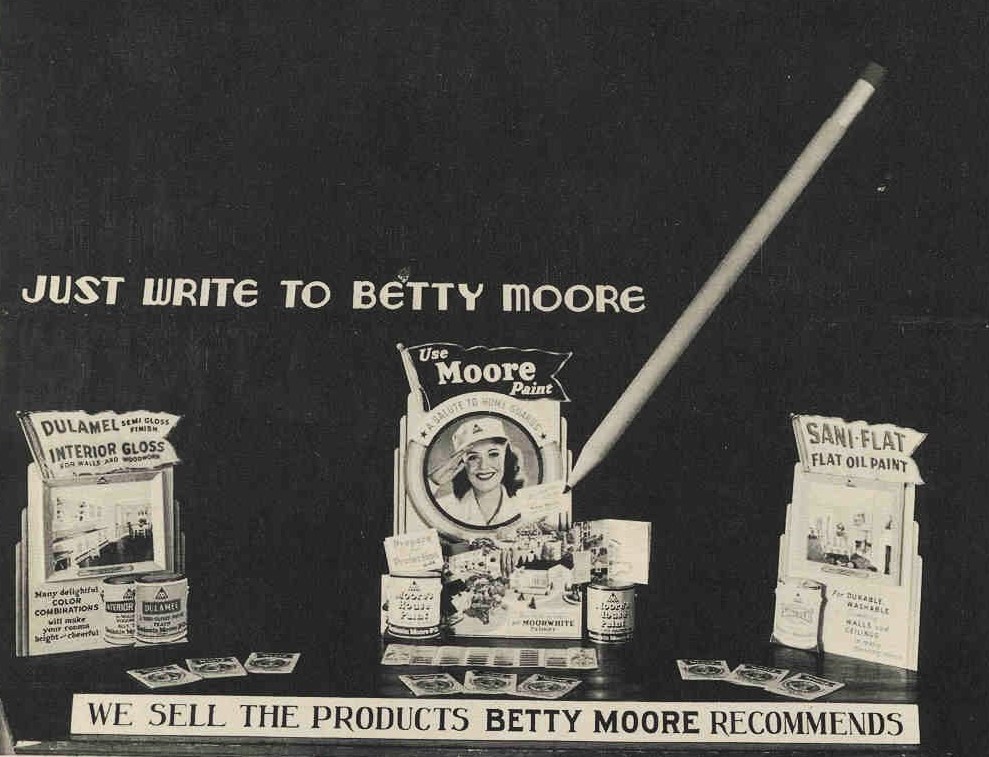 There is a case to me made, that Betty created a specific, very positive and friendly atmosphere for visiting customers.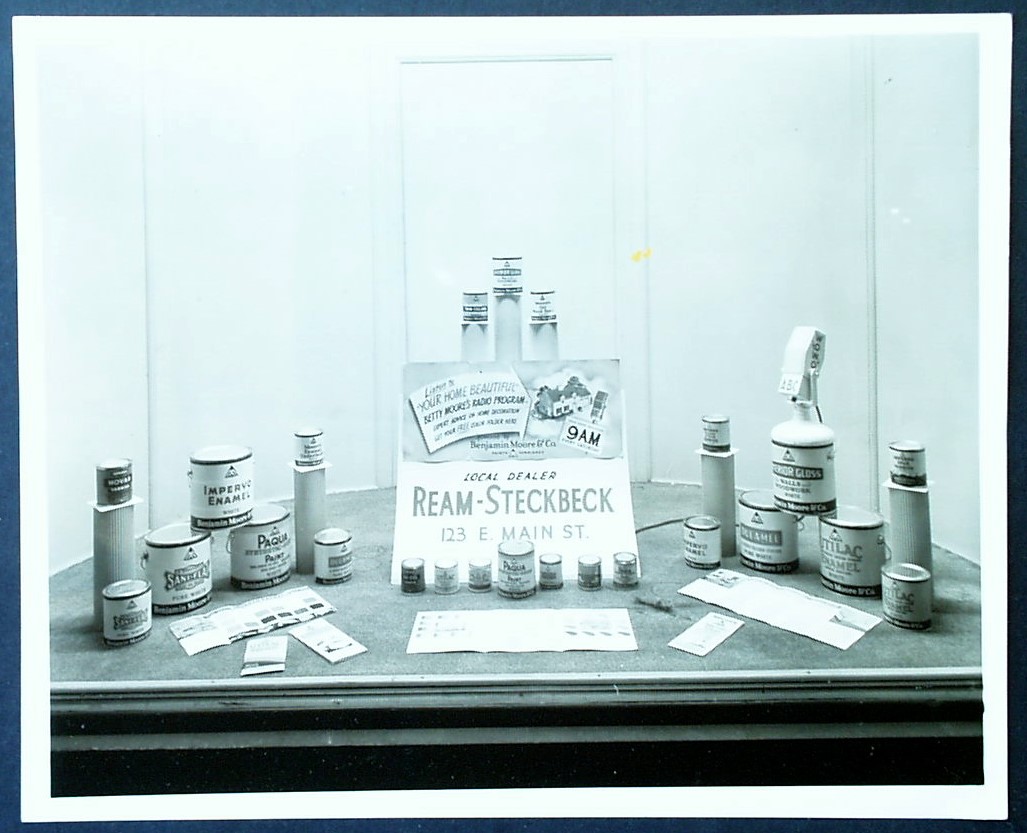 Moreover the Benjamin Moore & Co. company offered retailers regular weekly syndicated newspaper features on color and decorating under the Betty Moore byline for submission to their local newspaper.
Betty Moore's brochures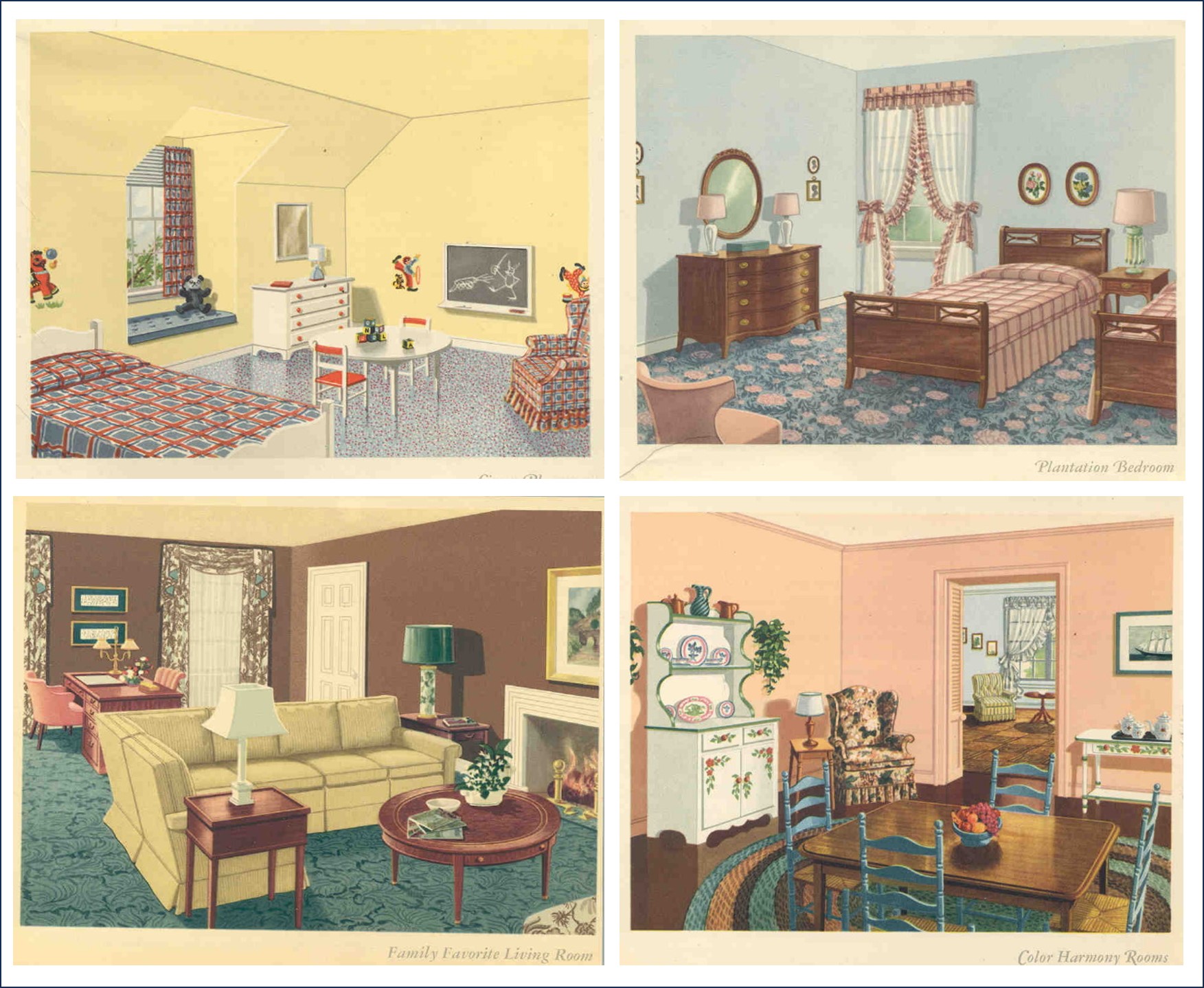 Printed illustrated brochures described the decorating schemes of the radio broadcasts. These were available free to consumers who wrote in for them or who visited a paint store to pick up a copy. Color and decorating schemes were available for virtually every house as well as exteriors.
Who was responsible for all these letters and who gave advice?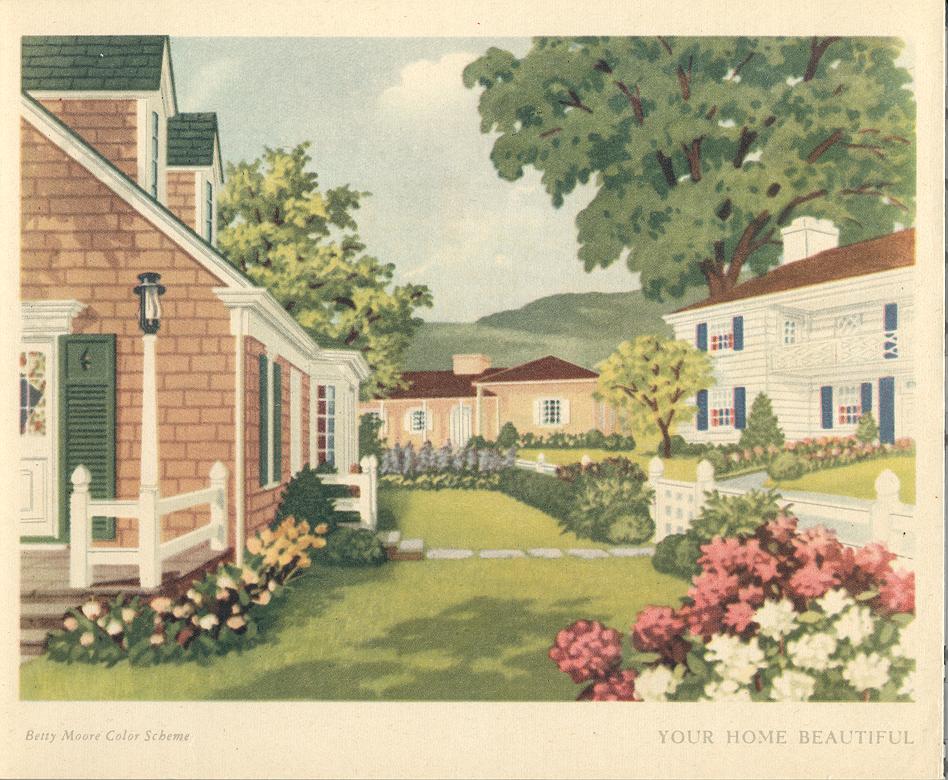 A well-trained team of colorists referred to as "Betty Moores" within the company. It was these people who corresponded with the audience on behalf of Betty Moore.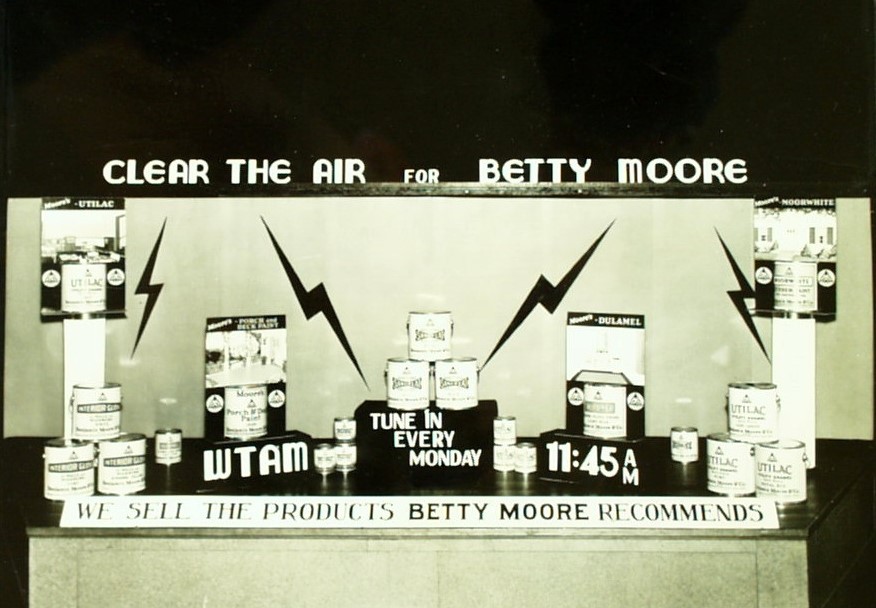 The aforementioned group was also an invaluable help for distributors in the preparation of appropriate color combinations, dedicated to specific painting projects, carried out in hospitals, hotels or dormitories.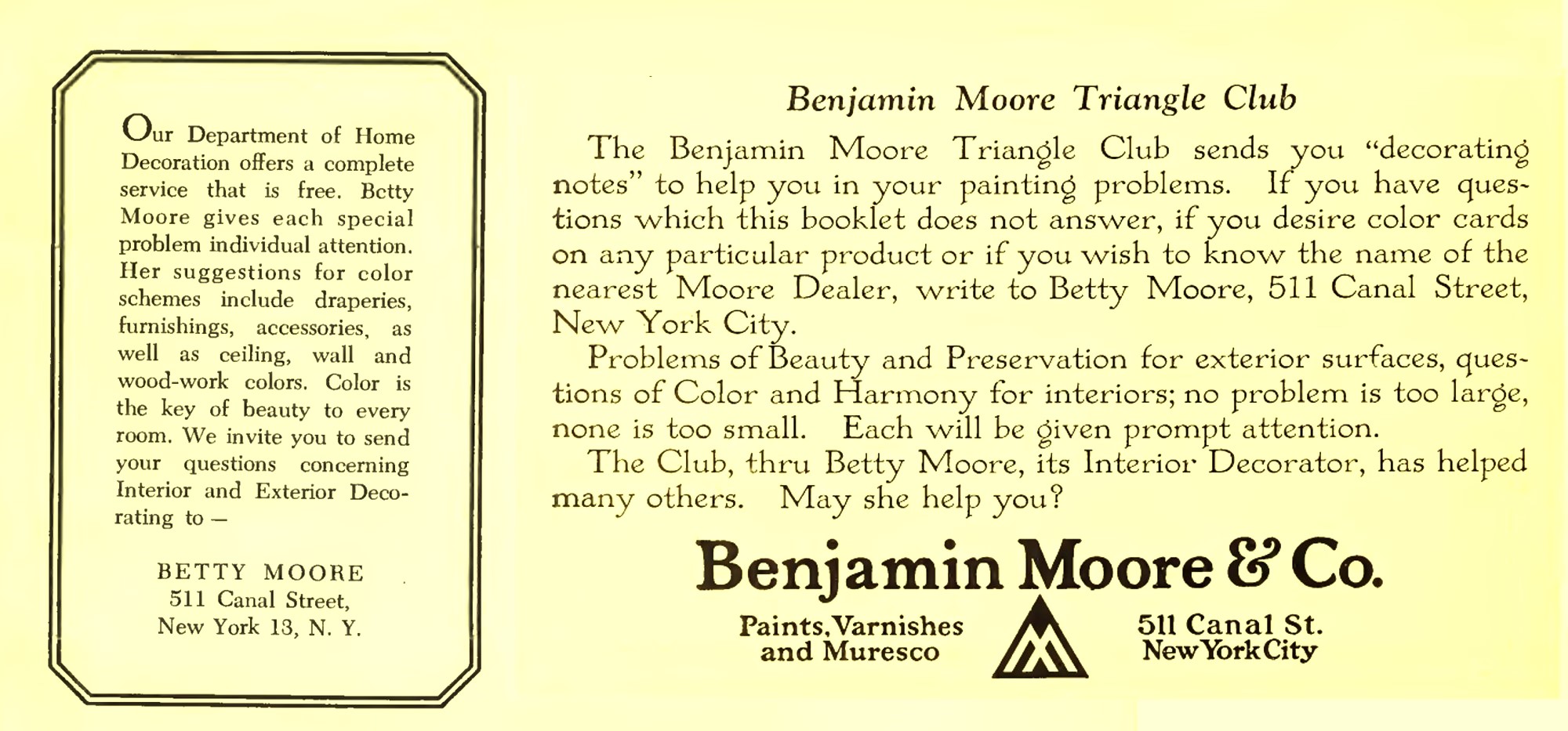 Until 1960, Betty Moore advised Americans. It is difficult to indicate the exact date when this nice character gave the last clues.
One thing we know for sure Betty played an important role in creating the history and image of the Benjamin Moore brand.