COLOR TRENDS 2021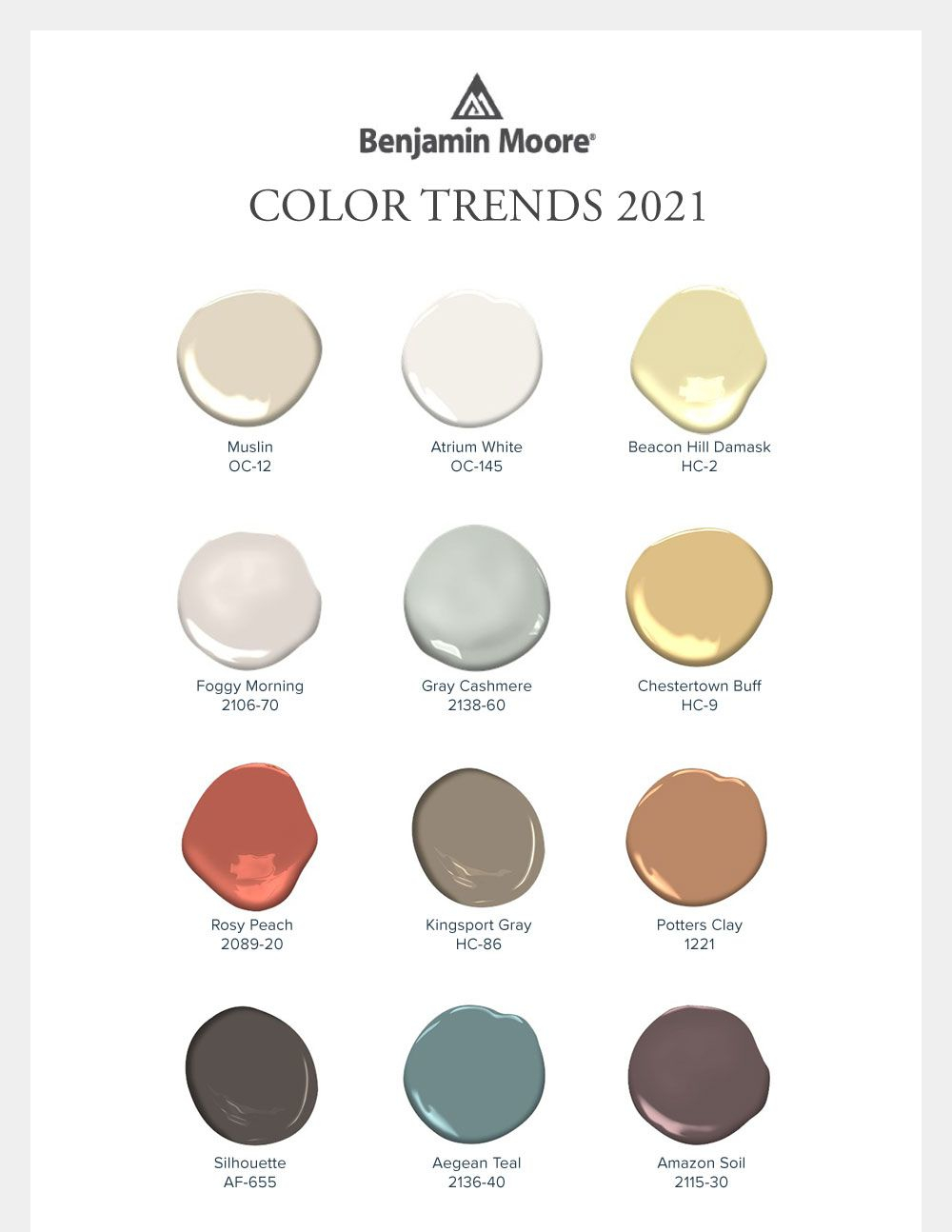 This is a story spoken by Color Hunters from Benjamin Moore &. Co.
One of the most common questions about color trends that we receive is around the process we go through to select the color for the coming year.
Travel to a variety of design-focused shows, visiting art exhibits and looking at the way various industries are using color is an important part of the research process.
What we discovered for 2021?
Streetscapes and small café...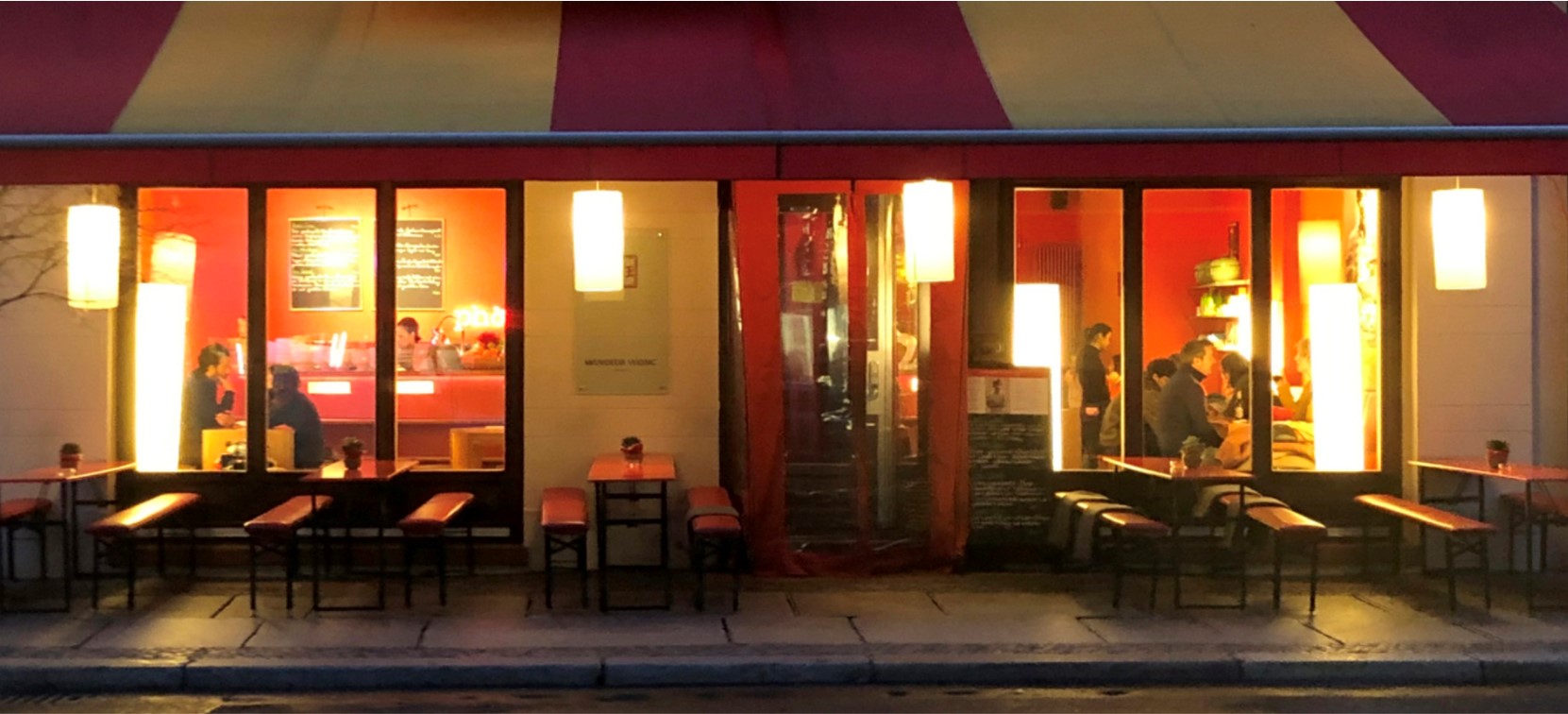 We are constantly on the lookout for interesting uses of color and ideas on how colors can be used in new and creative ways. This year we were inspired by color that adorned streetscapes, the beautifully prepared foods in a small café, and even watching people take part in a hobby, craft or other common interest.
While we found great color insights from the design shows we were fortunate to attend (pre-travel restriction), we also discussed color on an emotional level through ways colors can deliver comfort and ease, and how that is reflected in the home.
THERE IS NO PLACE LIKE HOME...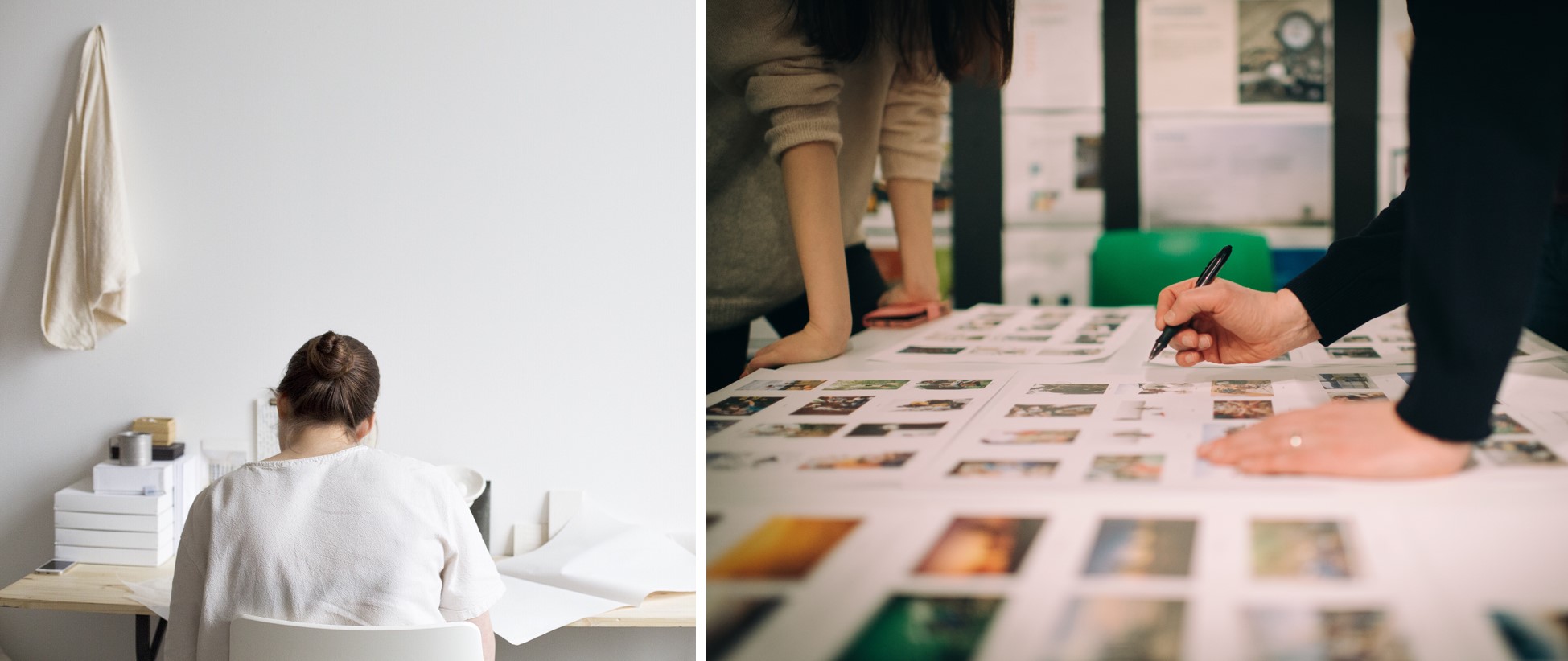 For 2020, we looked at an array of basic needs that are shared across all humans from security to creativity to optimism and how this is expressed through color and how these necessities are brought into the home.
We began our conversations about Color Trends for 2021 in late 2019, attending various shows in the late fall and early winter as we typically do. We shared our ideas and color experiences, and we collected images and insights that caught our attention, signaling general themes that might set the pace for the directional colors in the next year.
The role of the home as a multi-functional place was a theme we saw continuing into 2021, as we started this conversation in 2019. For 2021, the concepts and images that stood out in our research had an organic quality, with a softened, casual grace with instant appeal. The handmade charm of imperfection, the presence of well-made materials, vegetable dyed textiles, and beautiful food from the farmer's market brought forth a color story and a sensibility that felt right for the coming year.
As we welcomed in a new decade excited to begin a new chapter, our lives rapidly changed with the onset of a global pandemic. This situation caused us to rethink many facets of our daily lives, in addition to placing the home in a position of exceptional importance.
PANDEMIC - the GAME CHANGER...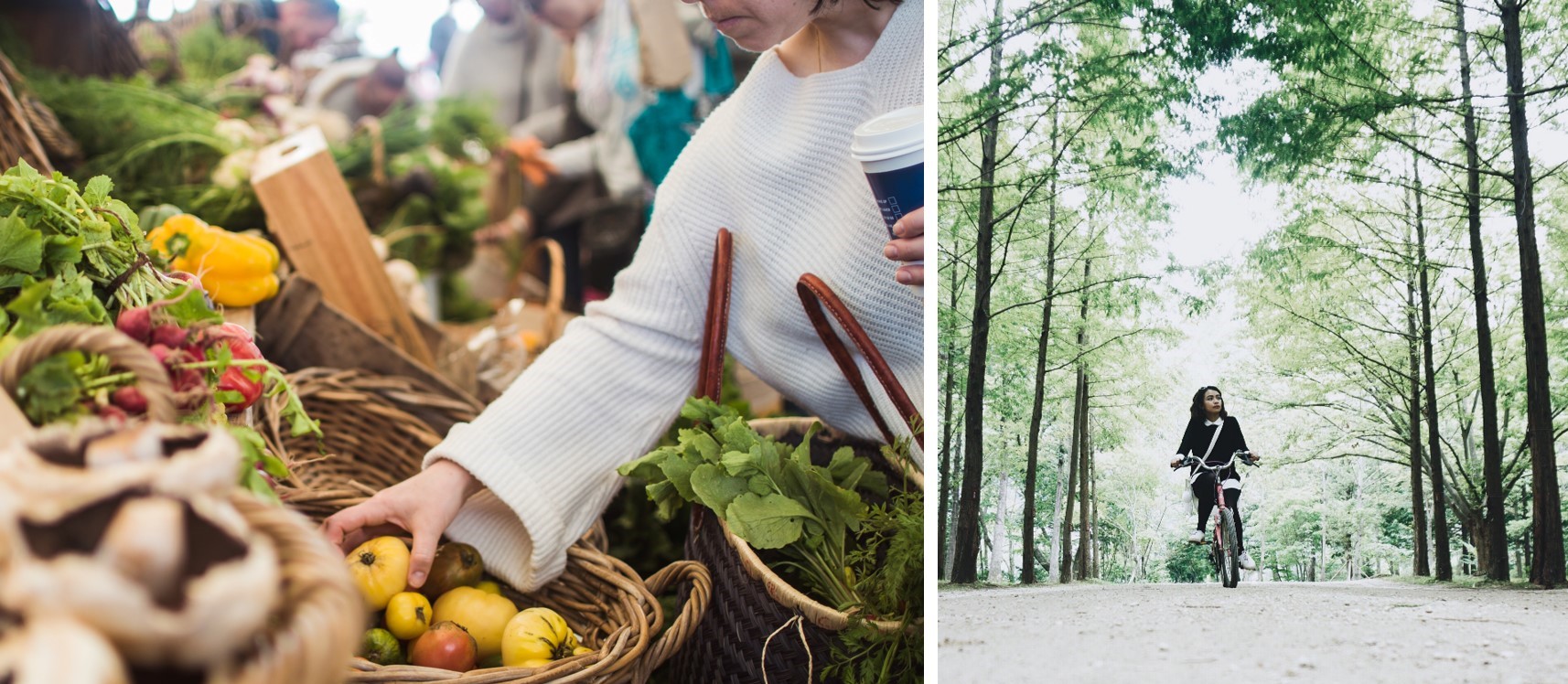 As the Spring ushered in the onset of our "new normal", our focus on the importance of the home remained intact, but some pieces of the story took on greater importance than we could have ever imagined.
For 2021 we are rethinking the ways in which we live, with this time of reflectance offering an opportunity to reset and re-emerge with a new mindset. We are looking for bright spots in our everyday where we celebrate simple pleasures and small moments. Things we formerly took for granted now take on new meaning as we move forward.
New interests have developed, many of which take us back to a simpler time. We've found new ways to connect with others, even if it means in a virtual space. We're spending more time outdoors where we can take time for wellness and connecting with nature.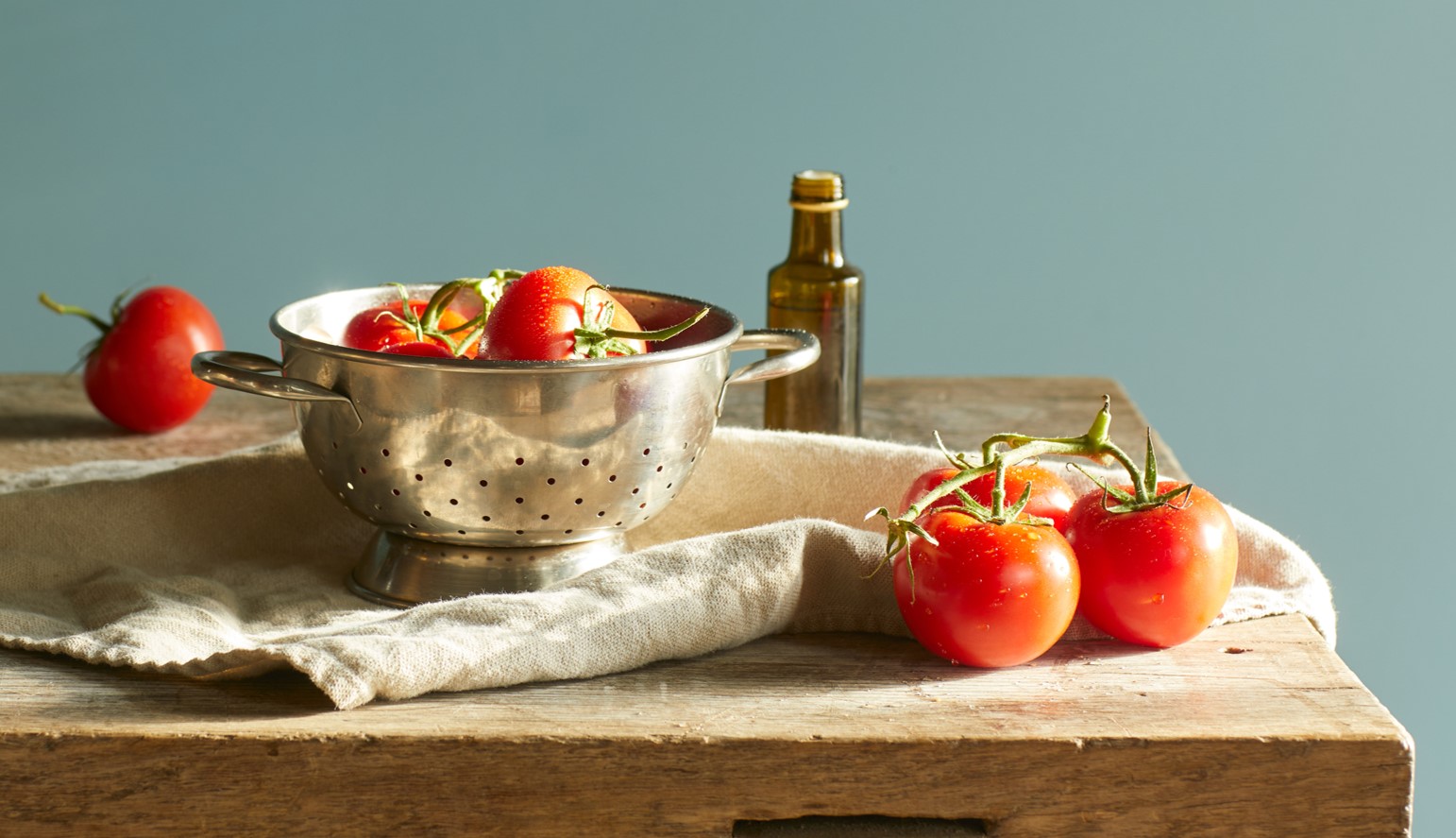 Using color in the home in an organic and conscious manner resonated with us as it touched on the emotional side of color. We found contentment in the light dancing across the faded rumple of linen sheets in the morning and beautifully ripened fruits on the windowsill from the impromptu garden built right outside the door.
From our initial discussions, the rooted and grounded colors we noted continued to feel right going into 2021. We gathered colors from our collections with a sunbaked and renewing quality that felt directional, while echoing a craving for stability.
Likewise, the colors that rose to the top felt harmonious with a balance between warm and cool hues.
Introducing the 2021 Color of the Year… Aegean Teal 2136-40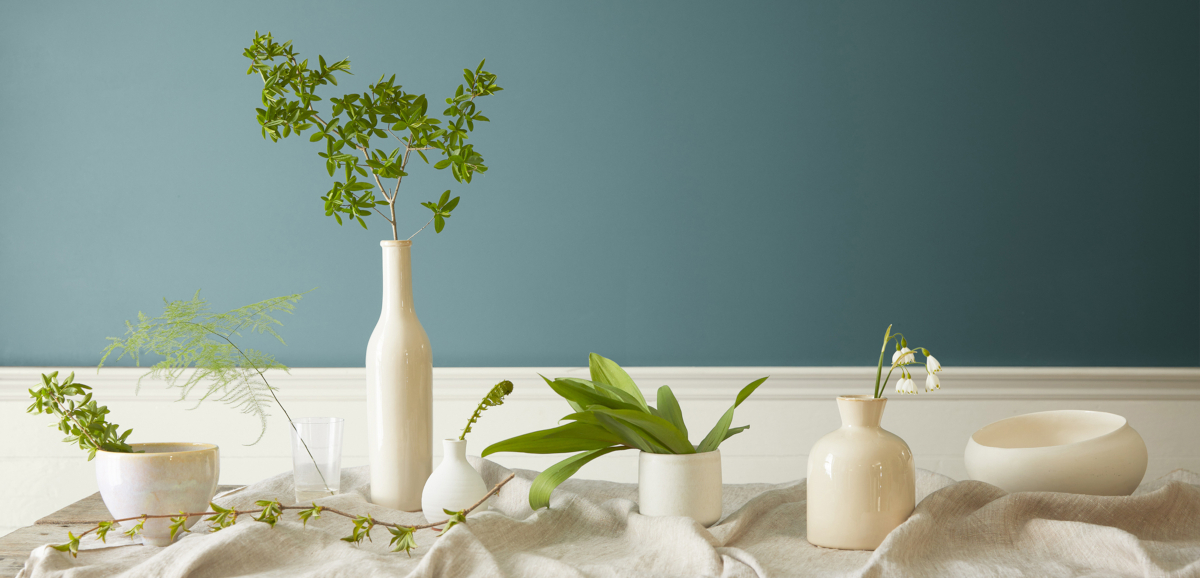 Take a moment to reflect and reset. Intriguing, balanced, and deeply soothing, Aegean Teal 2136-40 creates natural harmony.
Aegean Teal is an exceptionally balanced color with just the right amount of saturation, with a slight touch of gray that makes this appealing mid-tone easy to pair with other colors and materials. The result is an intriguing and engaging color with both complexity and depth.
With Aegean Teal, we bring together the associations of blue and green for a calming and restorative quality. In some cultures, teal is believed to be a symbol of infinity, truth and clarity of thought – symbolism that is particularly meaningful for 2021.

During of color selection process, we perused a number of blue-greens and deeper greens before few selecting "Aegean Teal". This particular color stood out as an ideal hue to reflect a casual, beautiful and comforting lifestyle that is both attainable and relatable.
When building the overall Color Trends 2021 palette, there was an equilibrium happening between both sides of the color wheel, with Aegean Teal acting as a bridge to enhance the balanced and harmonious sensibility.
Palette of 12 beautiful colors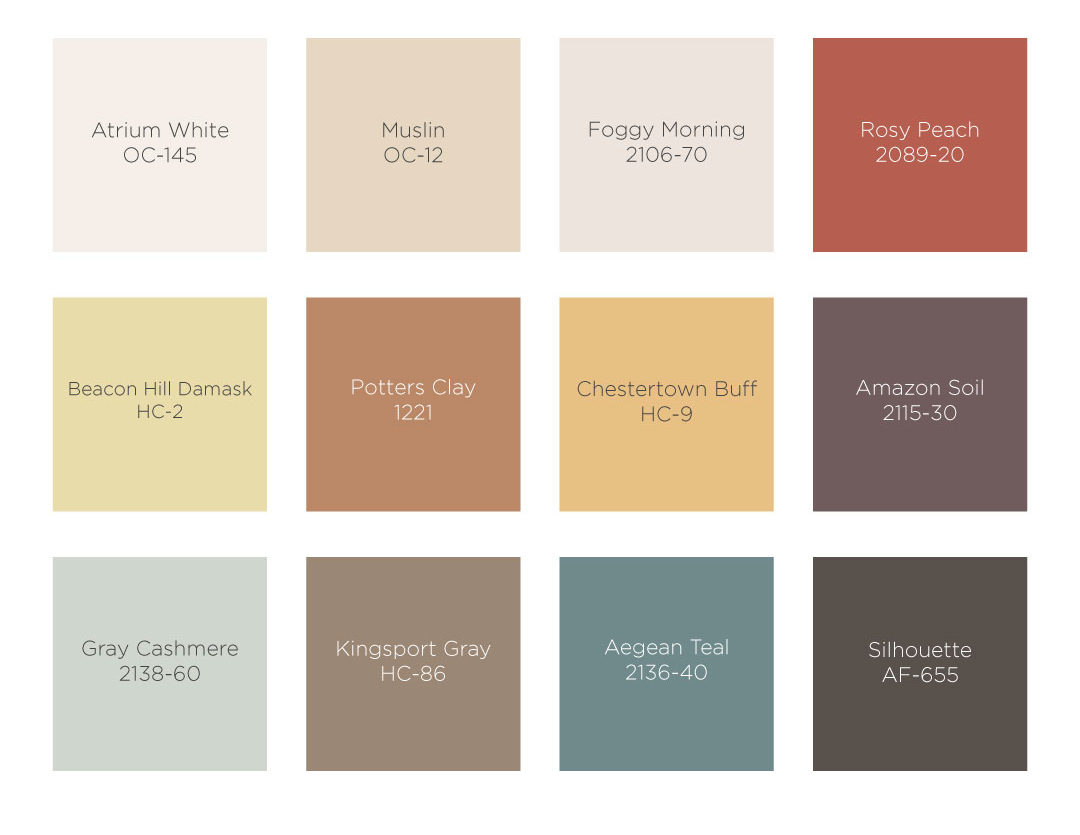 When developing the palette for 2021, much of our discussion centered around colors that had an organic, rooted and welcoming quality. Many of the colors in our consideration set fell to the warmer side of the color wheel, with a selection of cooler hues that complemented this warmth for an accordant feel.
As we combed through our collections, the palette evolved and shifted, leading us to a selection of colors that appropriately conveyed a grounded sensibility for 2021. Ultimately, we curated a palette twelve comforting, sunbaked hues that radiate warmth and wellbeing, in addition to feeling modern with time-tested appeal.
This year, we also set a greater focus on mid-tone colors that balance out the deeper and paler colors in the palette to offer a breadth of options. The resulting palette has a gracious, 'lived-in' character with instant resonance that invites us to surround ourselves with color as we enhance our homes.
The colors ripened by the sun...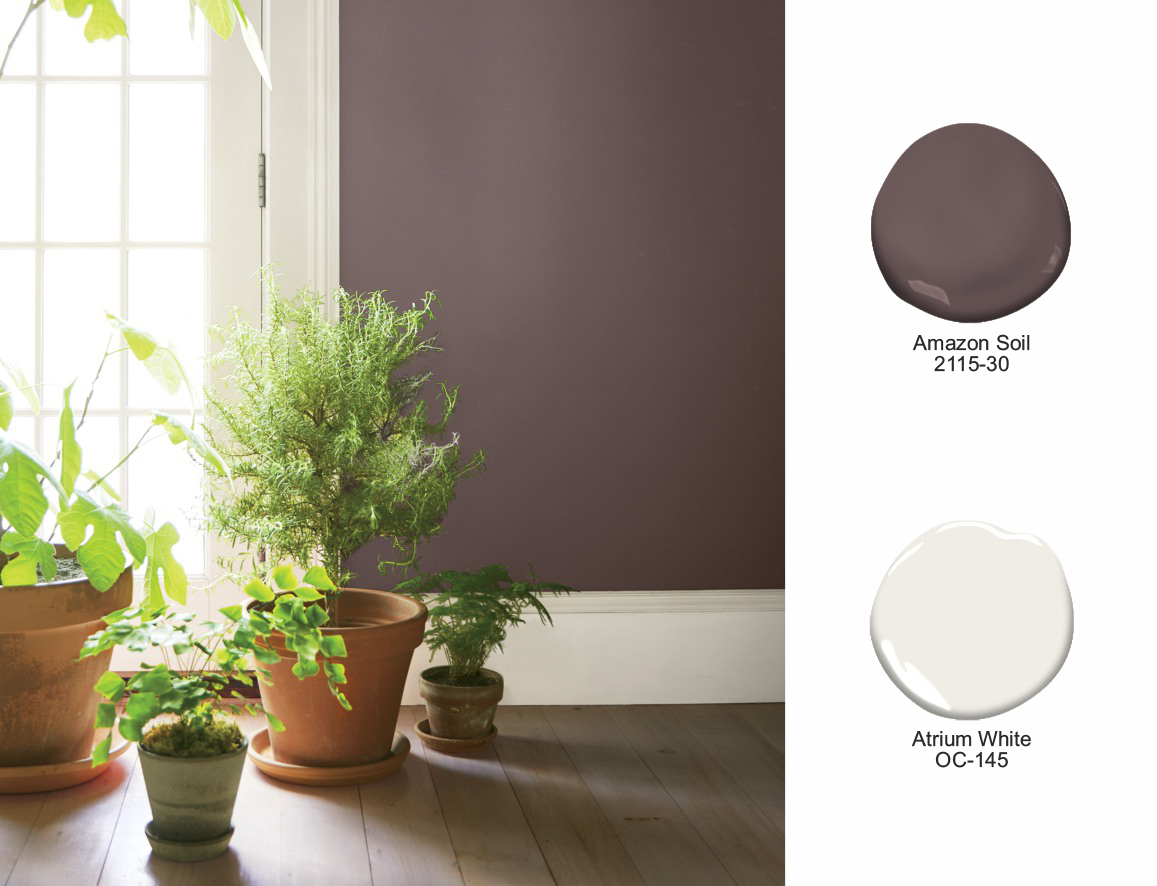 Drawing from these initial conversations, we looked at natural dyes, the array of colors in the farmer's market, and took particular notice of colors that felt as though they were ripened by the sun. These colors had a purity and dependability that felt right for the time and served as the starting point for compiling the palette.
We also considered how unexpected color combinations can further convey the sense of warmth and comfort that we sought to express for 2021.
In the images shown above, we captured the food studies we did early in the trend process where we took inspiration from the speckles of quail eggs or the unique colors of mushrooms.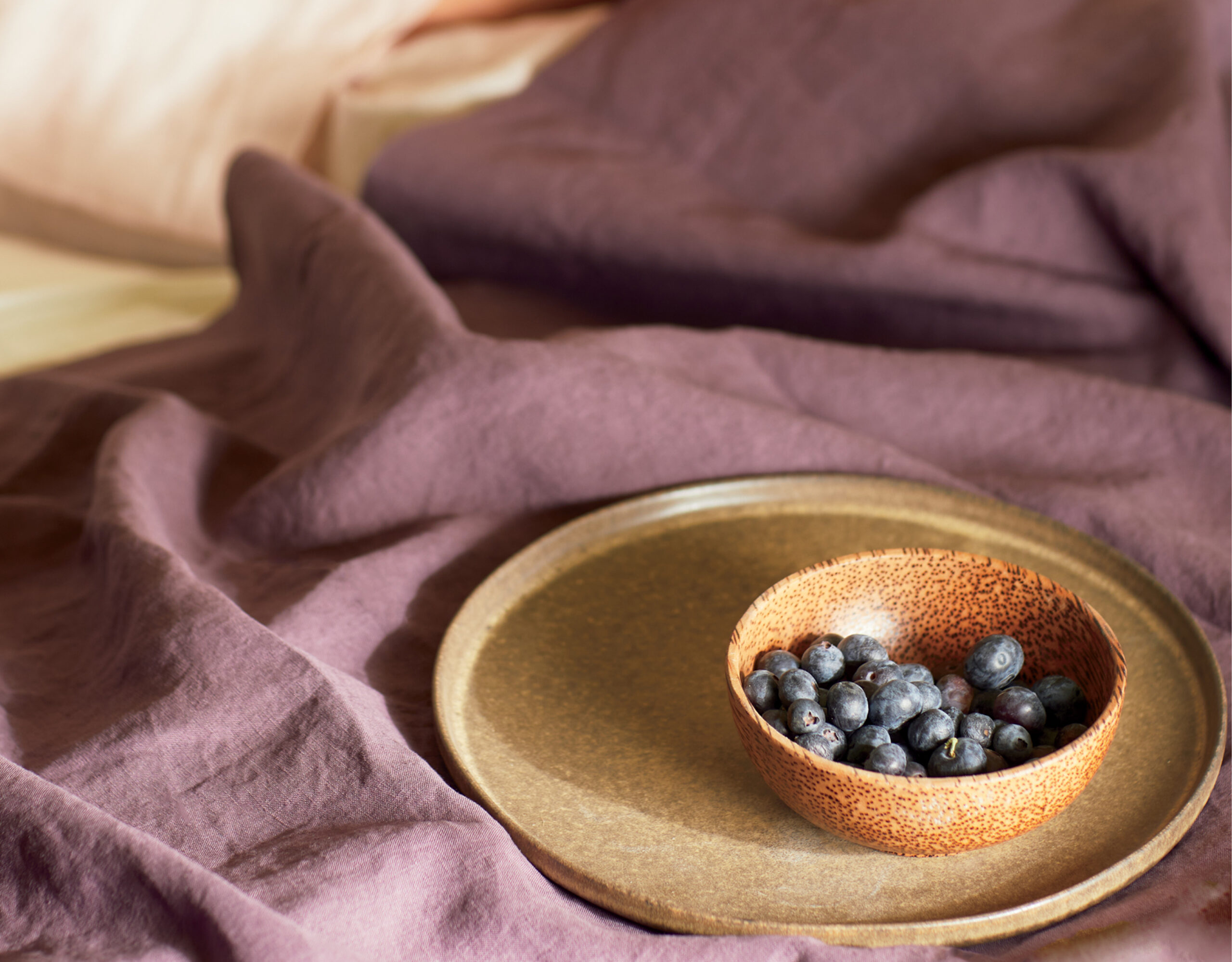 We also thought about the ongoing trend of bringing plants into the home, but furthering this idea by considering how we can cultivate something everyday - whether it be testing out gardening, learning a new skill or hobby, even curling up with a book.
The compilation of these ideas brought us to key concepts for Color Trends 2021.
RESET AND ESCAPE INTO NATURE...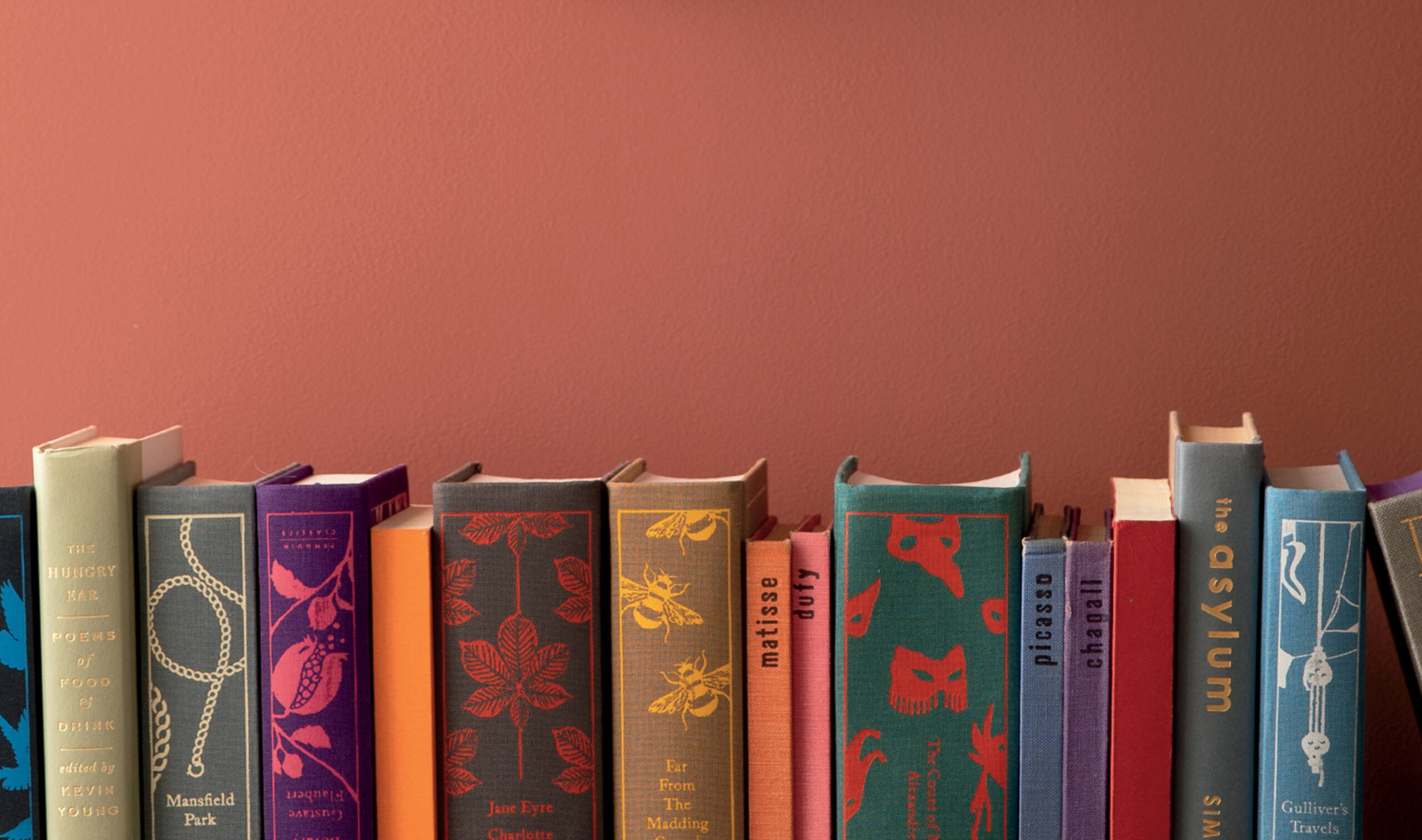 The home as a place of refuge has been important for several years, and for 2020 we spoke about how our expectations of home have increased.
Clearly, the pandemic brought the home even more front and center than we could have imagined. While this thinking felt very "in the moment," we also saw that there was an overall shift in mindset starting that was about to set the pace for the coming year.
We recognized the increased need for the home to be a source of comfort, restoration, revitalization, and rejuvenation, forming a key message for Color Trends 2021.
The need to find simple, small moments of joy became paramount. People craved an escape, often into nature or through projects to update their surroundings.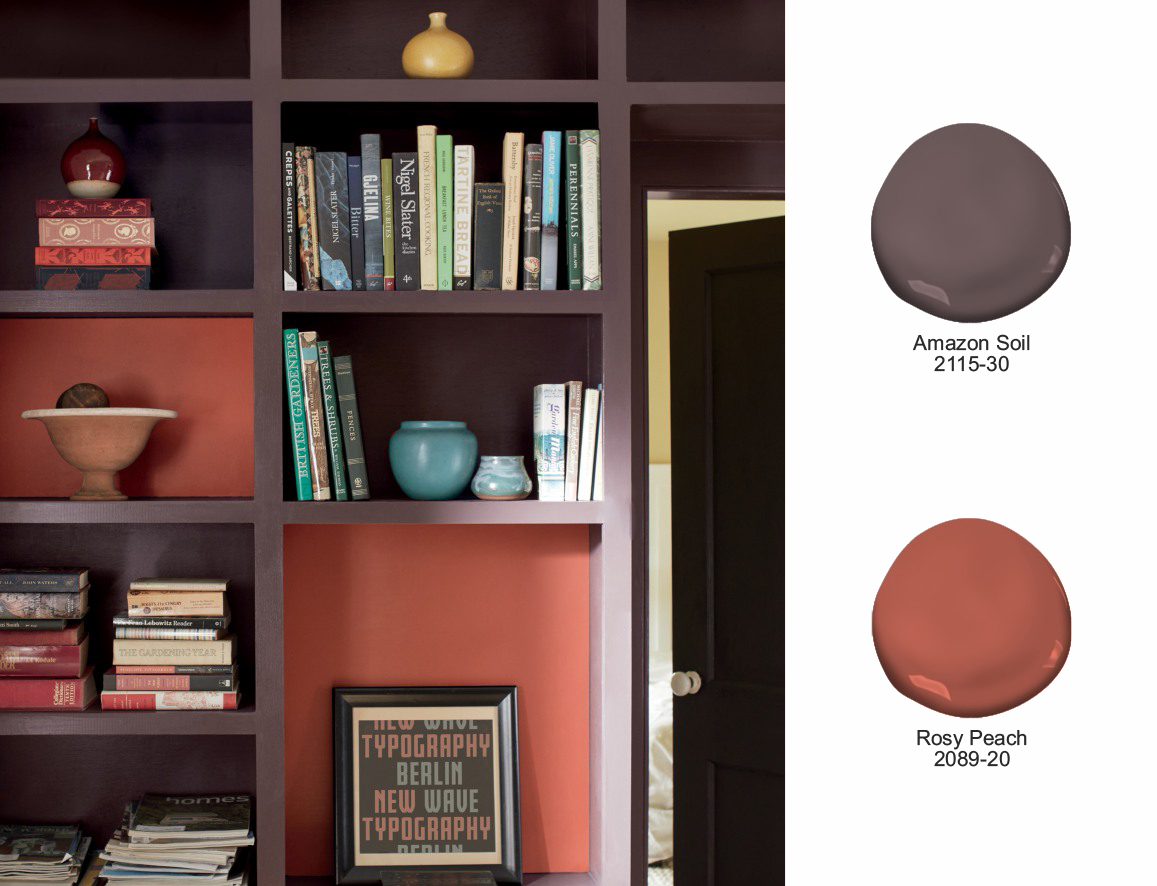 On this picture bookshelves with collected items are offset by Amazon Soil 2115-30 with it's depth and alluring undertones, and Rosy Peach 2089-20, an earthy mid-tone that is reminiscent of natural clays.
RELATIONS AND COLORS...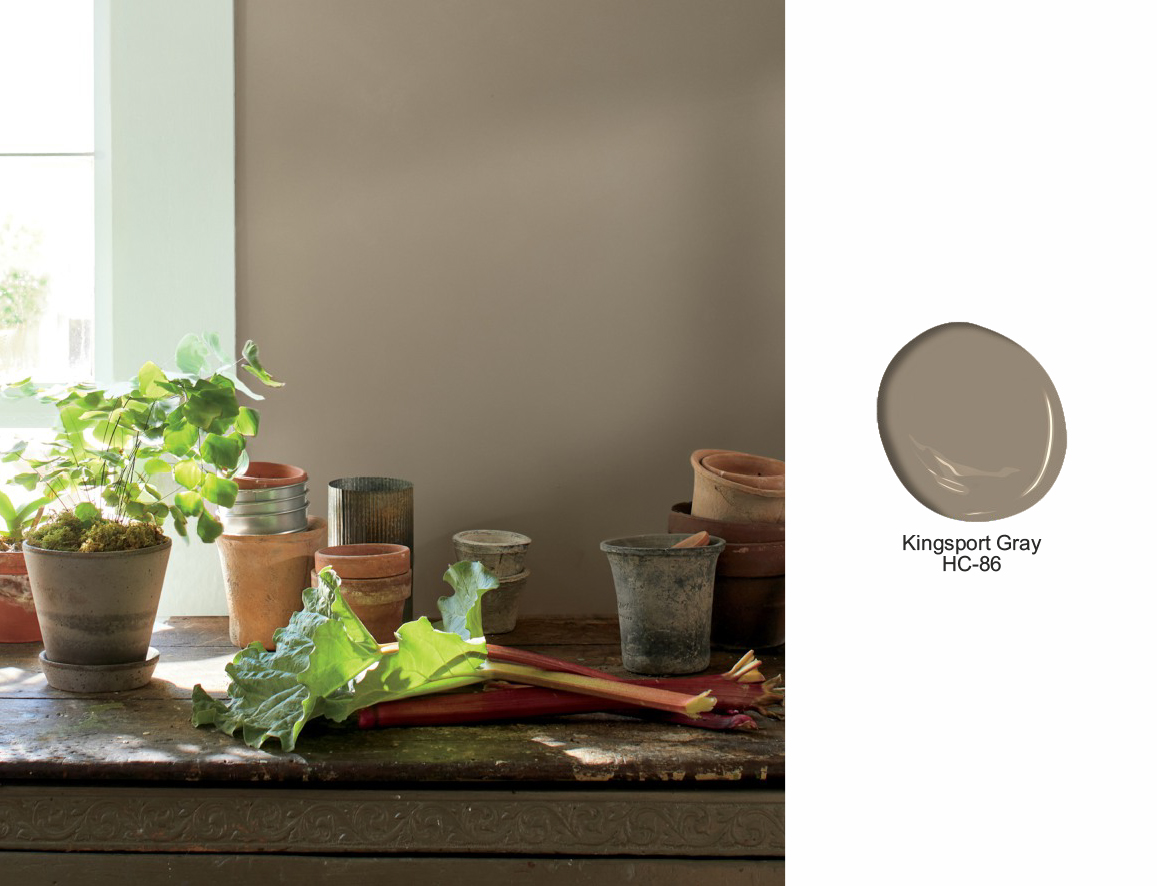 Next, we saw the home as a place where we continually cultivate, or nurture, something to grow – whether it be relationships, experiences, talents or skills, in addition to how we find comfort, creativity and wellbeing.
This can be realized through the way in which we create our surroundings whether through color or other elements that have meaning for the individual.
Here, Kingsport Gray HC-86 walls feel right with it's grayed taupe hue against the fresh green leaves of herbs and plants.
KITCHEN - THE HUB...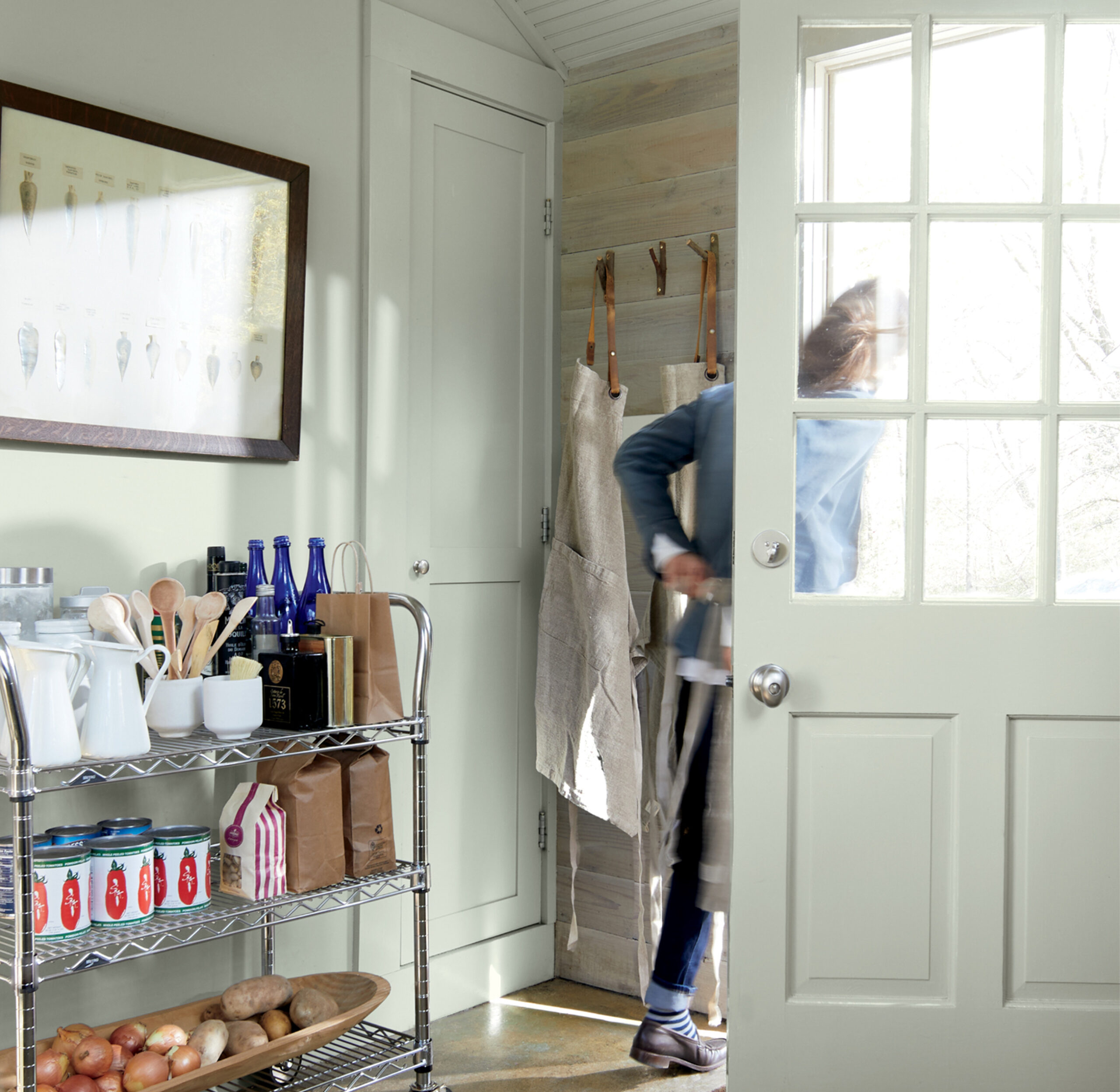 The third piece of the concept is a focus on the kitchen. This essential hub is the intersection for nourishment, craft and community that radiates throughout the home.
The Color Trends 2021 palette is rooted in organic hues that are very applicable for the kitchen, with Aegean Teal as a color that is an ideal choice not only for walls, but also cabinetry. Reflecting on time spent in the kitchen, this is often the place where memorable moments among family and friends happen, with colors that resonate with the individual serving as the backdrop.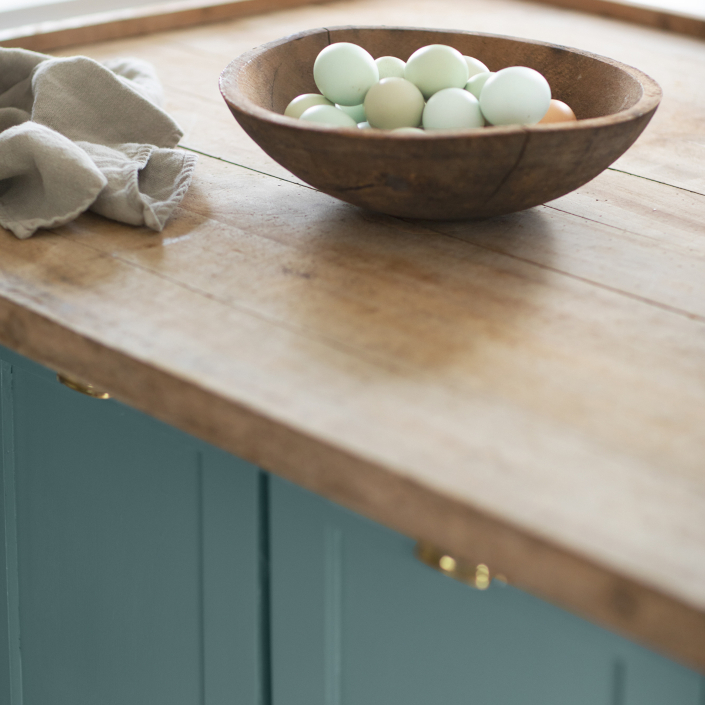 HOME OFFICE...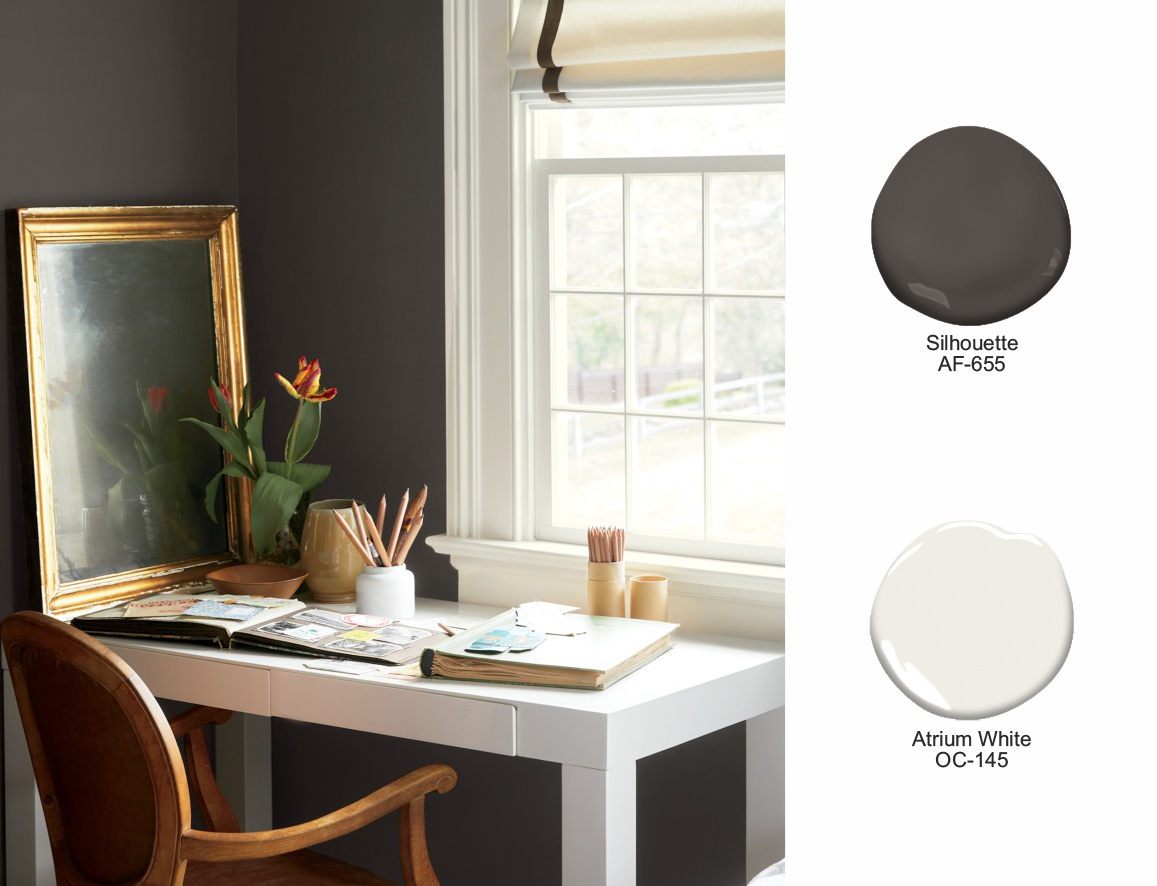 From the kitchen, we move through the other parts of the home that lend themselves to the enveloping colors in the 2021 palette with a casual grace.
These colors nurture the spirit and tap into our innermost needs for stability and balance, alongside the desire to create beautiful spaces.
With much attention being given to the home office, this image features Silhouette AF-655, a lush color that blends deep brown and gray, and contrasts beautifully with Atrium White OC-145 and warm accents.
PLEASE WELCOME...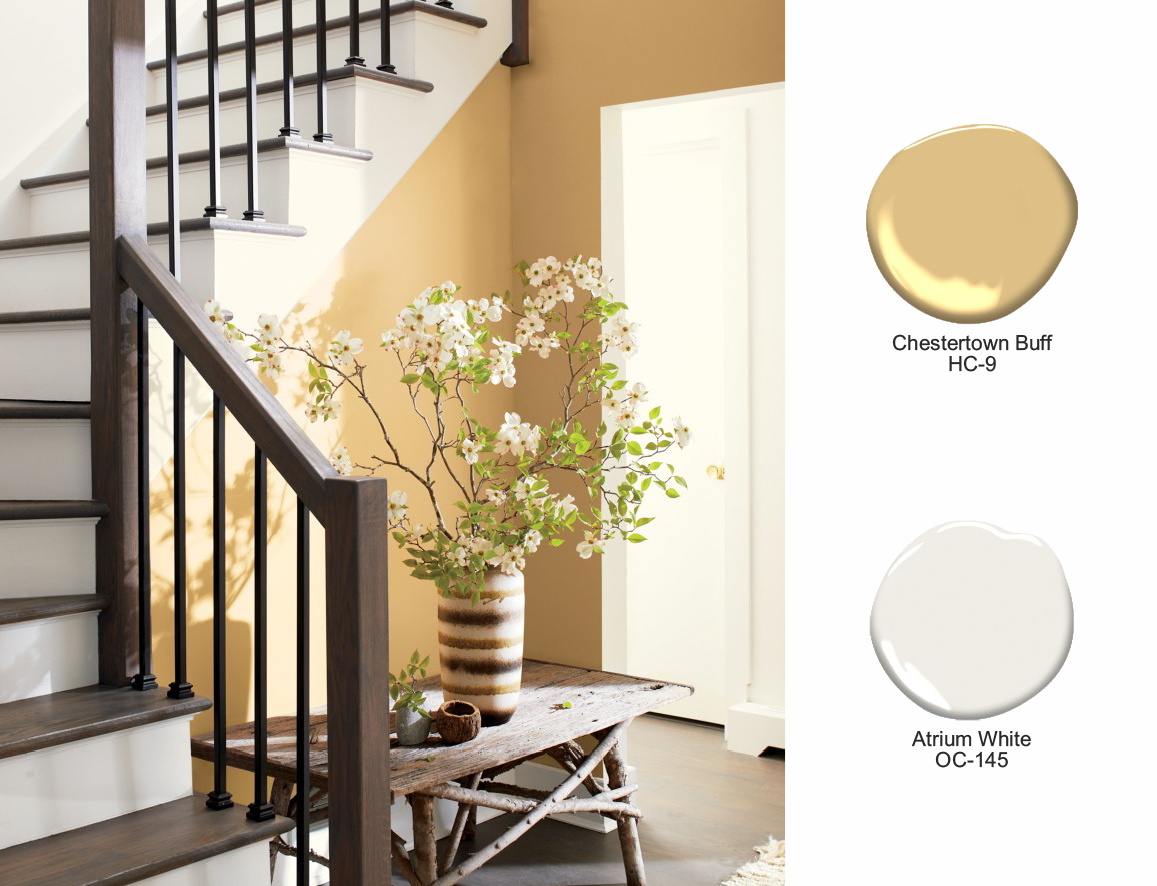 Upon entering this home, we are welcomed with Chestertown Buff HC-9, a warm gold hue that is part of the time-tested Historical Collection. In this entryway, Chestertown Buff acts as an accent against Atrium White OC-145 with stairs and flooring stained is a deep brown, enhancing the overall warmth of the space.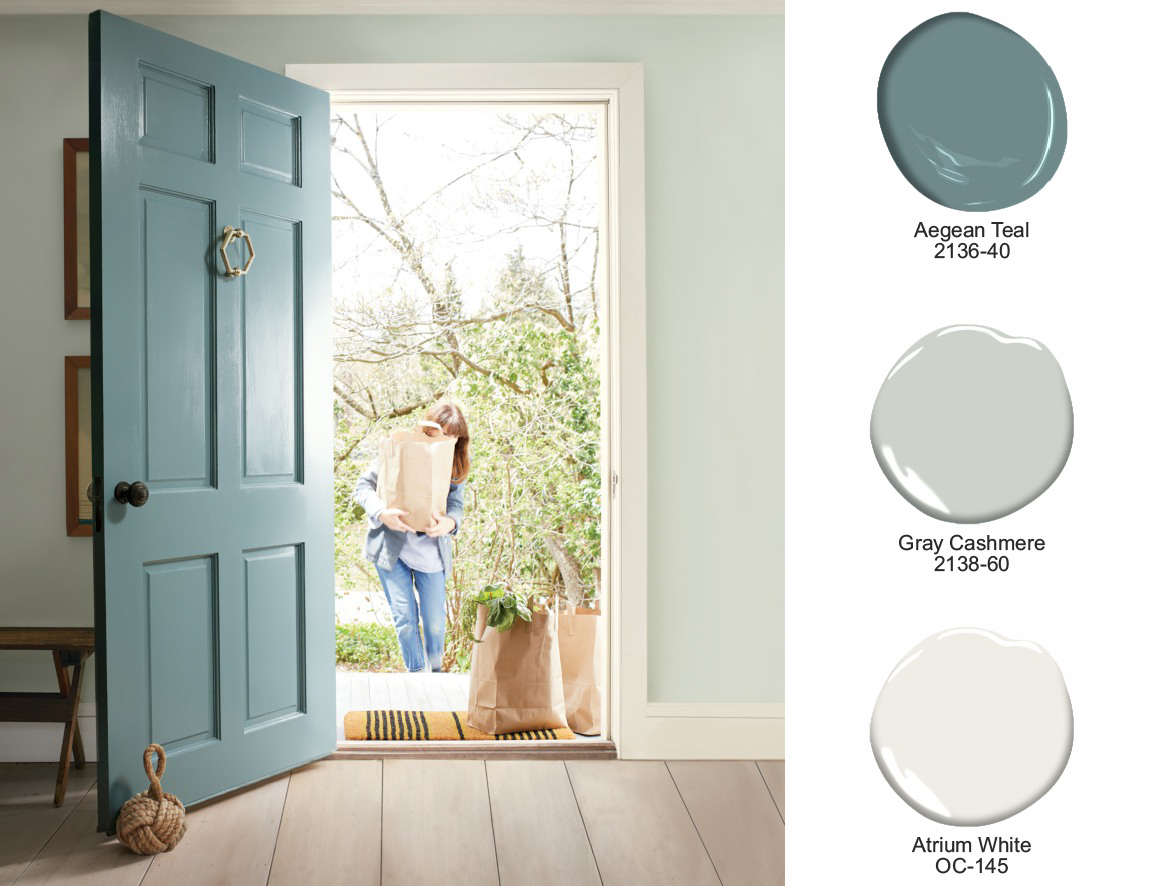 In summary, the Color Trends 2021 palette and the Color of the Year invite us to reflect and reset as we nourish the spirit with simple, everyday moments.
Rooted in the elegant, handspun textures of the home, the Color Trends 2021 palette comforts as it uplifts with a selection of with warm, sunbaked hues that play to the senses.
Aegean Teal, the Color of the Year 2021 reflects a renewed mindset that encourages us to tap into our emotional and physical responses to color, as we seek to transform our spaces in ways that are individually meaningful.